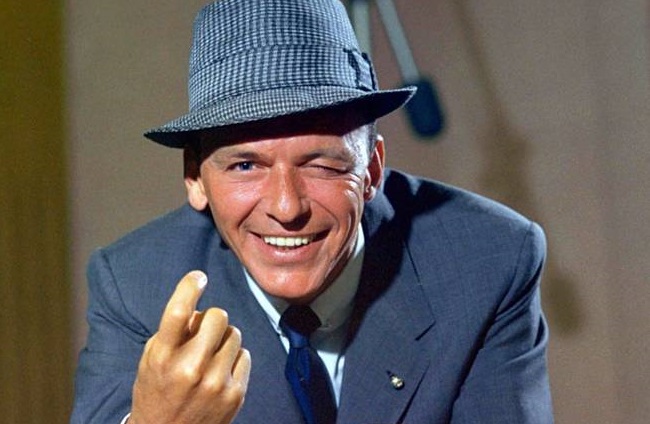 2015 LOS ANGELES, ITALIA FEST TO CELEBRATE
CENTENNIAL OF FRANK SINATRA's BIRTH
Homage To The Legendary Italian-American Performer Will Begin February 15th
ROME, ITALY, January 7, 2015 – Initiating the year marking the Centennial of Frank Sinatra's birth, the 2015 Los Angeles, Italia – Film, Fashion and Art Fest will celebrate 'The Voice' with a series of initiatives that will take place between Italy and America, it was announced today by festival founder and producer Pascal Vicedomini. The 10th edition of the most eagerly anticipated Italian festival in the world, takes place from February 15th to the 21st (the week preceding the Academy Awards®) at the Hollywood & Highland Center in Los Angeles and will feature a film retrospective and several musical performances designed to pay tribute to the greatest Italian-American star of all times.
Included in the retrospective of Sinatra films will be Fred Zinnemann's 1953 classic, the multi-Oscar®-winning "From Here To Eternity" which garnered the actor an Academy Award as Best Supporting Actor for his role as US Army soldier Angelo Maggio.
"The first prominent guest to honor Sinatra at the festival will be the Italian tenor Vittorio Grigolo," said Vicedomini. "He is expected at the TCL Chinese 6 Theatres on the festival's opening night (Sunday February 15th), for an enchanting evening filled with surprises, which last year included U2 and Al Pacino, along with many other prominent Italian-American and Italian artists. We are pleased to focus our 2015 festival on Sinatra's acting, a profession which accompanied his more celebrated activity as a singer and which, aside from his music, contributed to gain him worldwide fame."
"Sinatra was extremely proud of his Italian heritage," explained Tony Renis, L.A., Italia's Honorary President, who is presently in Miami where, together with his producing partners David Foster and Humberto Gatica, he is working on a new album by Andrea Bocelli, that will include a version of Sinatra's classic song 'My Way.' "His father Antonino was born in Palermo, Sicily, and his mother Della came from a small village in Liguria. Both had migrated with their families – at a very young age – to Hoboken, New Jersey. And when he launched his career, Sinatra kept his original surname.
"In particular, we intend to highlight a lesser known aspect of Sinatra's great personality – his involvement as a human rights' activist during the '50's alongside his close friend Sammy Davis Jr. Throughout his life he was committed to assist children and families in need," concluded Renis.
Los Angeles Italia's film homage is expected to include: Vincente Minnelli's "Some Came Running," (1958) with Dean Martin and Shirley MacLaine; Otto Preminger's "The Man with the Golden Arm" (1955) in which he received an Oscar nomination for Best Supporting Actor; Joseph L. Manckiewicz' "Guys and Dolls" (1955); John Frankenheimer's amazing "The Manchurian Candidate"(1962); Lewis Milestone's "Ocean's 11" (1960); Gordon Douglas' 1968 crime drama "The Detective" as well as "On the Town", a 1949 musical directed by Stanley Donen and starring Gene Kelly.
L.A., Italia 2015 is presented by the Capri in the World Institute with the support of MIBACT, MAE and MISE and in collaboration with ICE, ANICA, and Italy's Los Angeles Consulate General along with private sponsors.
ACCORDING TO THE HOLLYWOOD REPORTER
http://www.hollywoodreporter.com/news/los-angeles-italia-fest-celebrate-761534 
ACCORDING TO VARIETY
http://variety.com/2015/film/news/los-angeles-italia-event-to-celebrate-centennial-of-frank-sinatras-birth-1201394794/ 
ACCORDING TO DEADLINE
http://deadline.com/2015/01/frank-sinatra-feted-at-los-angeles-italia-fest-mockingjay-gets-new-china-release-date-global-showbiz-briefs-1201343008/ 
ACCORDING TO FILMFESTIVALS
http://www.filmfestivals.com/blog/editor/2015_los_angeles_italia_film_fashion_and_art_fest_will_celebrate_the_voice_on_the_100th_anniversary_of_his_birth