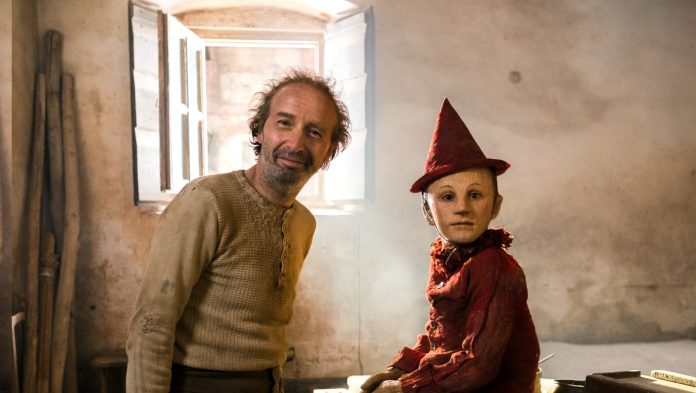 LOS ANGELES, April 13 – "Pinocchio," Matteo Garrone's new movie starring Federico Ielapi and Roberto Benigni will be shown at the TCL Chinese 6 Theatres here on April 18th as the opening film of the 16th edition of the 'Los Angeles, Italia Festival', which is presented by the Italian Ministry of Culture and Intesa Sanpaolo.
"To bring this universally known Italian fairy tale, as told by Matteo Garrone, to the Chinese Theatre — one the most iconic movie theatres in the world — on the eve of the Oscars® is a highly symbolic event which fills us with pride and satisfaction," said the Italian producer and founder Pascal Vicedomini. "Everybody in Hollywood knows Oscar-winner Roberto Benigni, he is part of the Academy's history, and now it's the time for Federico Ialepi, a skilled and captivating actor, to win American audiences over."
Italy will also be represented at the 2021 Oscars by Academy Award-nominated costume designer Massimo Cantini Parrini ("Pinocchio"), and make-up artists and hair stylists Mark Coulier, Dalia Colli and Francesco Pegoretti ("Pinocchio").
Pinocchio's magic is more alive than ever in Hollywood: Walt Disney Pictures is currently working on a highly anticipated live-action remake of the animated classic, starring Tom Hanks in the role of Geppetto.
Also to be honored at LA, Italia (chaired by Oscar winning screen-writer Nick Vallelonga and producer Andrea Iervolino) will be Pupi Avati's latest work which revolves around the greatest Italian poet, Dante Alighieri, whose 700th anniversary of his death is being commemorated this year. The Festival will also hold meeting with Michele Placido who has recently directed an eagerly awaited movie on 'Caravaggio' starring Riccardo Scamarcio.
The Festival, organized by the Capri in the World Institute, is staged with the support of Italy's Ministry of Foreign Affairs and the participation of Rai Cinema, Rai Com, Rainbow, Iervolino Entertainment, Minerva Pictures, MovieItaly, Isaia, as well as Anica, Apa, Ice, the Italian Consulate General and the Italian Institute of Culture in Los Angeles.
Los Angeles, Italia Festival is the first event in 2021 that will physically take place at the Chinese Theatre, with simultaneous online streaming on the US platform Eventive.org and Mymovies.it. Access to screenings will again be free of charge (maximum 100 people per showing, with a mandatory reservation). Virtual seminars and awards ceremonies can be followed on YouTube and Festival social media (Facebook, Instagram, Twitter.)
The following films are scheduled to be shown during LA, Italia: Edoardo Ponti's "The Life Ahead" (featuring the song "Io sì – Seen" by Oscar-nominated artists Laura Pausini and Diane Warren); the Tunisian film "The Man Who Sold His Skin" starring Monica Bellucci, an Oscar nominee as Best International Film; Marco Pontecorvo's "Fatima"(Netflix); Gianfranco Rosi's "Notturno" (with the director to take part to the festival); Mereghetti's "Deux"; and Fabio and Damiano D'Innocenzo's "Bad Tales".
---
Pinocchio arriva a Hollywood: il 18 aprile il film di Matteo Garrone protagonisti Federico Ielapi e Roberto Benigni aprirà il 16.mo Los Angeles Italia Festival promosso con il MiC e Intesa Sanpaolo, al Chinese Theatre. "Un evento dal forte valore simbolico – sottolinea Marina Cicogna del board dell'Istituto Capri nel mondo – portare questa universale favola italiana magistralmente raccontata da Garrone, nel cinema più celebre, a pochi giorni dalla riapertura e alla vigilia degli Oscar per i quali concorre, ci riempie di orgoglio".
Tutti a Hollywood sanno chi è Benigni, già entrato nella storia dell'Academy, ora sarà il bravissimo Federico Ielapi a far innamorare gli americani . Così come conquisterà tutti la creatività italiana dei candidati agli Oscar Massimo Cantini Parrini per i costumi e Mark Coulier, Dalia Colli e Francesco Pegoretti, per make up, trucco e acconciature, autentici artisti. E ricordiamo che a Hollywood la magia di Pinocchio è più viva che mai: la Walt Disney Pictures come è noto partirà con la lavorazione dell'annunciato remake in live action con Tom Hanks nella parte di Geppetto". La cultura italiana sarà protagonista a Los Angeles non solo con Pinocchio: in programma focus sulle celebrazioni dei 700 anni dalla morte di Dante Alighieri con Pupi Avati, che sta lavorando a un film sul sommo poeta, e Luca Sommi e anche su Caravaggio, con Vittorio Sgarbi e Michele Placido. Il festival organizzato dall'Istituto Capri nel mondo è promosso col patrocinio del Ministero degli Esteri e la partecipazione di Rai Cinema, Rai Com, Rainbow, Minerva Pictures, Iervolino Entertainment, Isaia, Anica, Apa, Consolato Generale d'Italia a L.A., Ice e l'Istituto Italiano di Cultura di Los Angeles.