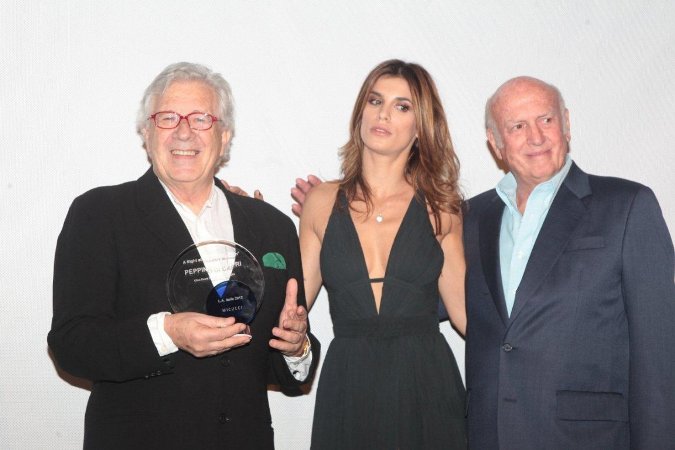 LOS ANGELES, February 23, 2012 – The iconic Italian singer Peppino Di Capri was honored here tonight with L.A. Italia's prestigious Lifetime Achievement Award. It was presented by multi-Grammy winner Mike Stoller and the noted musician Corky Hale at the Grammy Museum's Clive Davis Theater. Immediately following was a screening of the documentary "Peppino – 50 Years of Music," by Vincenzo Molliva and a surprise performance by the artist that included a tribute to the legendary composer George Gershwin.
The evening ended with a special dinner at the JW Marriott hosted by JSavra Bank executive Alain Salem in honor of Countess Marina Cicogna.
Photo: Peppino Di capri with Elisabetta Canalis and Mike Stoller
PEPPINO DI CAPRI BIOGRAPHY
Peppino di Capri was born in Capri in 1939. Following his father's footsteps, at age 4, during WWII Peppino was already playing the piano for US soldiers and General Clark on the island with a repertoire mostly made of american songs of that period. This musical phase has heavily influenced his music throughout his career.
In 1958, at age 18, he recorded his first two tracks: "MALATIA" and "NUN E' PECCATO". It was instant success for Peppino and his band, and it's just the beginning of a very long career!
In the following 5 years he recorded hits such as "VOCE 'E NOTTE", "NESSUNO AL MONDO", "LUNA CAPRESE", "LET'S TWIST AGAIN", "ST. TROPEZ TWIST", "ROBERTA" and many more, all songs that reached the top of the charts at their time.
In 1965 Peppino and his band performed as supporting act for the Beatles throughout their italian tour.
In '70 he launched Splash, his record company and recording studio. In '73 he won his first Festival di Sanremo with the tune "UN GRANDE AMORE E NIENTE PIU'" and a few months later he released "CHAMPAGNE", a song that quickly became a classic as well as his biggest international hit along with "ROBERTA".
In '76 he won the Festival di Sanremo (Peppino has taken part to a total of 15 editions of the famous festival) again with the song "NON LO FACCIO PIU'" and in the following years Peppino had great success through many appearances in popular tv shows, and released hits such as "IL SOGNATORE", "E MO' E MO'", "EVVIVA MARIA", "FAVOLA BLUES" and more.
In September '98 Peppino celebrated 40 years of career in music with a show called "CHAMPAGNE, DI CAPRI DI PIU'", aired on RaiUno from the famous Piazzetta, the little square in Capri.
In 2004 "IL SOGNATORE" was published, a book written by Geo Nocchetti, where Peppino talks about himself and his private and artistic life.
In 2009, among several live concerts and tv appearances, he recorded 2 cd's "COLLECTION 1 & 2", keeping his success alive in the new millennium, all the way to his great show in Parco dell Musica in Rome, filmed and released in dvd and cd, entitled "50° ANNIVERSARIO", for the 50th anniversary of his career.
Between 2009 and 2010 Peppino wrote and recorded the soundtrack for "Capri", a successful fiction at its 3rd season aired on Rai TV.
In the last 2 years Peppino has been busy co-writing and putting together a Musical on his artistic and musical journey,and recording a new album, MAGNIFIQUE WITH ORCHESTRA, a collection of international hits such as "CRY", "L'HYMNE A L'AMOUR", "I LOVE PARIS" and "C'EST MAGNIFIQUE", reinterpreted with a symphonic orchestra, released in december 2011.