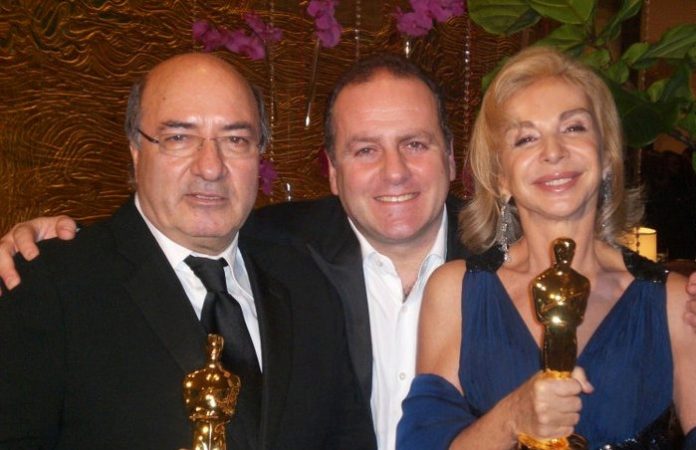 LOS ANGELES, CA, January 27, 2012 – Noted Italian production designer Dante Ferretti and set decorator Francesca Lo Schiavo, received their third Academy Award® last night, this time for Martin Scorsese's Hugo. The duo also received the L.A. ITALIA – Excellence Award during the 7th L.A. Italia Film, Fashion and Art Fest which was held here at the Hollywood Chinese Theatre from February 19th to the 25th.
The event, chaired this year by Italian filmmaker Pupi Avati, took place during the week preceding the Oscar's featured the screening of The Aviator by Martin Scorsese and Sweeney Todd by Tim Burton (for which Ferretti and Lo Schiavo won Oscars) as well as the documentary Dante Ferretti: Production Designer presented at the Venice Film Festival in 2011.
In addition to honoring the aforementioned golden couple of Italian cinema, L.A., Italia 2012, also featured a tribute to director Sergio Corbucci who is best known for his very violent yet intelligent spaghetti westerns. He was for a long time considered an exploitation director, but has now attained a vast following and is easily compared to Sam Peckinpah or Sergio Leone. Coincidentally, Quentin Tarantino is presently filming an upcoming western "Django Unchained," starring Leonardo DiCaprio and Jamie Foxx, which is inspired by Corbucci's cult spaghetti western Django, starring Franco Nero.
The Fest also screened a selection of first and second movies from young Italian filmmakers.
Produced by Pascal Vicedomini, L.A. Italia 2012 was presented by the Istituto Capri nel Mondo in association with CIM Group, Chinese Theaters LLC, and the Hollywood Chamber of Commerce, along with the support of the Italian Ministry of Foreign Affairs, the Cinema Department of the Italian Ministry of Culture, Eni, Alitalia, Cinecittà Studios in association with the Italian Consulate, the Italian Trade Commission, the Italian Institute of Culture in Los Angeles and Cinecittà Luce.
About Dante Ferretti:
In his career, the Italian production designer, art director and costume designer for films, has worked with many great directors, both American and Italian, such as Pier Paolo Pasolini, Federico Fellini, Terry Gilliam, Franco Zeffirelli, Martin Scorsese, Francis Ford Coppola, Anthony Minghella, and Tim Burton. He frequently collaborates with his wife, set decorator Francesca Lo Schiavo.
Ferretti was a protégé of Federico Fellini, and worked under him for five films.[1] He also had a five collaboration with Pier Paolo Pasolini and later developed a very close professional relationship with Martin Scorsese, designing seven of his last eight movies.
In 2008, he designed the set for Howard Shore's opera The Fly, directed by David Cronenberg, at the Théâtre du Châtelet in Paris. Ferretti won two Academy Awards for Best Art Direction for The Aviator and Sweeney Todd: The Demon Barber of Fleet Street. He had seven previous nominations. In addition, he was nominated for Best Costume Design for Kundun. He has also won three BAFTA Awards.
About Francesca Lo Schiavo:
A seven time Academy Award-nominee and two-time Oscar-winner, Lo Schiavo is married to fellow art director Dante Ferretti. Her Best Art Direction wins are for The Aviator and Sweeney Todd: The Demon Barber of Fleet Street. The films for which she was nominated include Gangs of New York, Kundun, Interview with the Vampire: The VampireChronicles, Hamlet and The Adventures of Baron Munchausen.
Photo: Dante Ferretti and Francesca Lo Schiavo with the producer Pascal Vicedomini