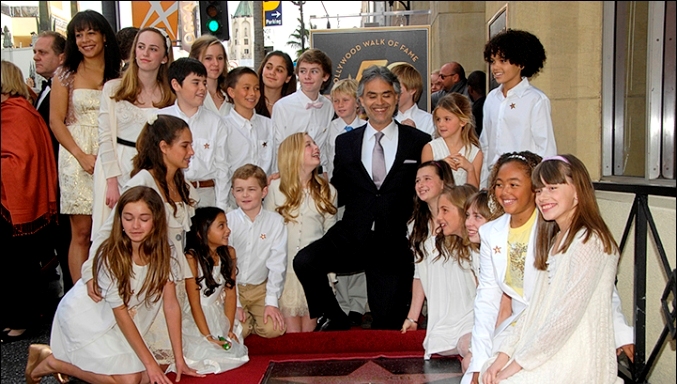 LOS ANGELES, March 2 – Andrea Bocelli on Tuesday got a star on Hollywood's Walk of Fame.
The pop tenor, 51, who has a string of awards and smash albums to his credit, told ANSA: "This is a sign of the American public's affection for me, an affection it always shows, at concerts and when people meet me in the street".
Bocelli's most recent album was his first Christmas Holiday album, My Christmas.
It was the top-selling US Holiday album last year.
Asked about comparisons made with the late Luciano Pavarotti, who was also huge in the States, Bocelli told ANSA: "Every artist is similar to himself alone. If he has a place in the international panorama it's because he was able to make his own mark".
Singing experts, especially opera ones in Italy, have often niggled about Bocelli's style and range and, like Pavarotti, about his attempts to combine pop and opera.
The Tuscan singer said: "Italians think they're guardians of the world's musical culture and that means they tend to have an over-protective attitude that detracts from pure enjoyment".
The crossover superstar rebuffed criticism that he "mixes and matches" genres that should be kept separate.
"There's no contamination. I really care about the purity of the language. When I sing opera I sing it with its rules, which are very precise. With pop, I opened myself up to a different world, even though my first love is still opera".
"But I'm a musician and above all a music lover, not genre specific". After debuting at the Sanremo Song Festival in 1994, where he won the Newcomers section, Bocelli has gone on to sell 70 million albums worldwide – 24 pop, eight opera – and has performed at some of the world's top music venues with the likes of Sarah Brightman, Celine Dion, Christina Aguilera and Laura Pausini.
He won a Golden Globe and an Oscar nomination with Dion in 1999 for the song The Prayer from the film Quest for Camelot, and has two other Grammy nominations as well as six World Music Awards and six Classical Brit Awards.
Bocelli's last high-profile performance was at last year's Champions League Final in Rome where he sang Honour Him from the film Gladiator.
His most recent album, Incanto, went four-time diamond (1.5 million copies sold) in four months, mainly thanks to his huge US fan base.
On Tuesday the singer made his mark on the famed LA sidewalk along with Ringo Starr, Bryan Adams, Van Morrison, Russell Crowe, Emma Thompson, Colin Firth and James Cameron.
rsvp@losanglesitalia.com