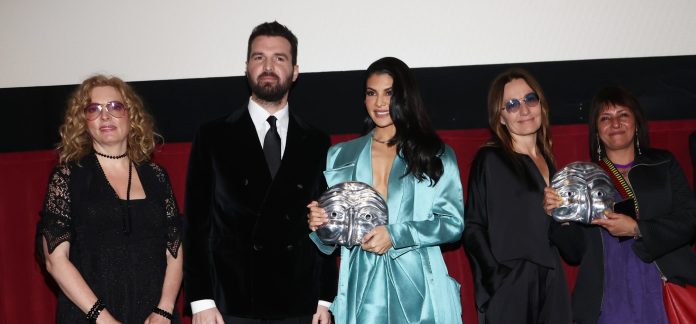 Photo n. 1: Chiara Tilesi, Andrea Iervolino, Jacqueline Fernandez, Maria Sole Tognazzi, Leena Yadav
TELL IT LIKE A WOMAN features Cara Delevingne, Jennifer Hudson, Marcia Gay Harden, Eva Longoria, and Leonor Varela. It is an amazing film directed by seven female directors from all over the world who use different styles to express their personal idea of femininity ( Silvia Carobbio, Catherine Hardwicke, Taraji P. Henson, Mipo Oh, Lucía Puenzo, Maria Sole Tognazzi, Leena Yadav ).
TELL IT LIKE A WOMAN is the result of a collaboration between Iervolino Entertainment, a film and television content production company owned by Andrea Iervolino and Monika Bacardi, and We do it Together, a non-profit production company owned by Chiara Tilesi and Lucas Akoskin, which aims to achieve gender equality.
An anthology consisting of seven short stories directed and performed by only female protagonists from all parts of the world:
Unspoken directed by Maria Sole Tognazzi and starring Margherita Buy;
Lagonegro directed by Lucia Puenzo and starring Eva Longoria
Elbows deep directed by Catherine Hardwicke and starring Cara Delevingne, Oscar winner Marcia Gay Harden and Jasmine Luv
Sharing a Ride directed by Leena Yadav and starring Jacqueline Fernandez and Anjali Lama
A Week Of My Life directed by Mipo O and starring Anne Watanabe
Pepcy & Kim directed by Taraji P. Henson and starring Oscar winner Jennifer Hudson and Pauletta Washington
Aria (animation) directed by Lucia Bigheroni and Silvia Carobbio.
Moreover, the song featured in this film "Applause", written by Diane Warren and performed by Sophia Carson will compete in the best original song category at the Oscars 2023.
Photo: Sophia Carson and Diane Warren