Photo: Maria Sole Tognazzi agoradesign.it and Nick Vallelonga
————————————————————————————————-
Maria Sole Tognazzi is an Italian director and screenwriter and the daughter of Ugo Tognazzi and Franca Bettoja. Director of the short film Unspoken which is part of the collective project Tell it like a woman also directed by Lucía Puenzo, Catherine Hardwicke, Leena Yadav, Mipo Oh, Taraji P. Henson, Lucia Bulgheroni, Silvia Carobbio.
Cast: Margherita Buy, Cara Delevingne, Jennifer Hudson, Marcia Gay Harden, Eva Longoria, Leonor Varela, Comprar cialis generico barato en españa and Anna Watanabe.
Produced by Iervolino Entertainment, a film and television content production company owned by Andrea Iervolino and Monika Bacardi, and We do it Together, a non-profit production company owned by Chiara Tilesi and Lucas Akoskin, which aims to achieve gender equality.
Maria Sole Tognazzi wins the best first-time director Silver Ribbon for the film Passato prossimo (2003), as well as a David di Donatello nomination. Throughout her career, she boasts collaborations with some of Italy's most renowned actors including Pierfrancesco Favino and Monica Bellucci ( L'uomo che ama 2008). Moreover, Margherita Buy (the award-winning Viaggio sola 2013), and Paola Cortellesi (the TV series Petra 2020).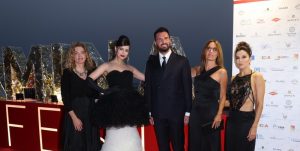 Taormina film festival 2022 : Chiara Tilesi, Sophia Carson, Andrea Iervolino, Maria Sole Tognazzi and Eva Longoria. ph by Daniele Venturelli