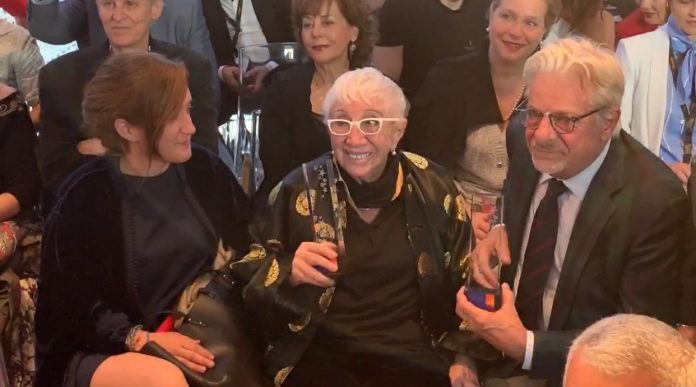 A day dedicated to Lina Wertmuller and Giancarlo Giannini with the screening of their most appreciated films in the historic Hollywood Chinese Theater: it's "Lina&Giancarlo day" the tribute that on March 6 the 18th edition of "Los Angeles, Italy – Film, Fashion and Art Festival" is organizing to remember its honorary chairwoman, the first woman-director nominated for Academy Awards and then honored in 2019 with a Lifetime Achievement Oscar and a star on the Walk of fame.
Celebrating also her friend-actor Giancarlo Giannini, popular "Pasqualino Seventbeauties' beloved by Americans and many global auteurs who have cast him in international films over the years.
Announcing the appointment is Tony Renis, honorary president of "L.A., Italy," now a classic kermesse on the eve of Oscar night (March 5-11), promoted by the Capri in the World Institute with the support of the Dg Cinema of the Ministry of Culture, Intesa Sanpaolo and the patronage of MAECI, the Consulate General and the Italian Cultural Institute.
"Lina and Giancarlo are two icons of Italian culture in the world and their collaboration made the history of the seventh art. It was fitting to dedicate a shared tribute to them in the heart of Hollywood at the resumption of the Festival after complicated years."
Scheduled in the marathon-tribute will be works such as 'Mimì Metallurgico ferito nell'onore,' 'Film d'Amore e di Anarchia,' 'Travolti da un insolito destino' and 'Pasqualino Settebellezze,' an Oscar nomination for the director, to Giannini best actor, for a total of 4.
In the broader program of Wertmuller's films, 'Ferdinando e Carolina,' a tribute to Naples, a city to which she was very close and which awarded her honorary citizenship, will also be offered. Also on the board of 'L.A., Italy 2022' with Tony Renis and chairman Bobby Moresco (Oscar winner for Crash) are producers Mark and Dorothy Canton, Marina Cicogna, Franco Nero, Oscar winners Dante Ferretti, Francesca Lo Schiavo and Alessandro Bertolazzi, and former Academy president Cheryl Boone Isaacs.
According to Ansa