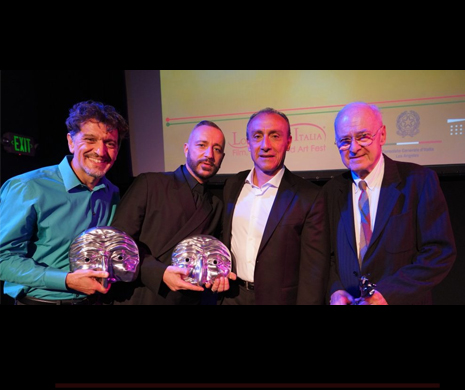 Photo: Enrico Casarosa, Massimo Cantini Parrini, Nicola Corigliano (Intesa Sanpaolo) and Dante Spinotti
***
The 17th Annual Event in Los Angeles featuring Italian Motion Pictures and Audiovisuals will take place from March 20th to 26th, on the eve of the 2022 Academy Awards®.
The Event, to be held at the prestigious TCL Chinese 6 Theatres and online on Eventive.org and Mymovies.it, will highlight Italy's longstanding cinematic, lifestyle and artistic legacy and will introduce current Italian productions and excellences to the United States.
Los Angeles, Italia 2022 Opening Ceremony is set for Sunday March 20th. It will be chaired by the Italian-American actor Robert Davi (the Annual President) and hosted by the Italian actress Sofia Milos and the popular American acting-coach Bernard Hiller. The Consul General of Italy Silvia Chiave and the Italian Institute of Culture Director Emanuele Amendola will be introducing the Awards Ceremonies (on March 20 and 21 at the Chinese Theatre and on March 25 at the Italian Institute of Culture).
This year's Festival, founded and produced by Pascal Vicedomini, will be honoring the Italian Oscar's nominated artists: director Paolo Sorrentino (The Hand of God), costume-designer Massimo Cantini Parrini (Cyrano) and animation master Enrico Casarosa (Luca by Pixar). And also legendary Dop Dante Spinotti; actors Riccardo Scamarcio, Benedetta Porcaroli, Filippo Scotti; directors Valerio Zanoli and Alessandro Pondi.
Among the other Italian talents attending the Events there are: actors Michele Ragno, Esmeralda Spadea and Clementino; music composers Carlo Siliotto e Francesco Giammusso and Dop Massimo Zeri. And also producers Lorenzo Mieli, Chiara Tilesi, Andrea Iervolino, Pietro Peligra, Riccardo Di Pasquale, Francesca Verdini, Carlo Salem, Andrea Zoso together with the Intesa Sanpaolo Bank-Executive Nicola Corigliano and also many other "ambassadors" of Italian Movie Industry, Culture and Lifestyle.
Under the auspices of the Italian Ministry of Foreign Affairs and International Cooperation and with the support of Italian Ministry of Culture and Intesa Sanpaolo, TaTaTu, and Givova: As well as Rai Com, Fenix Entertainment, Rs Productions, Wwps and also Isaia and Miamo Skincare. A project by Capri in The World Institute in collaboration with ILBE, Rainbow Medusa and Rai Cinema. Under the auspices Anica, Apa, Consulate General of Italy in Los Angeles, the Italian Institute of Culture and ITA – Italian Trade Commission.
* Access to the Festival – To ensure the health, safety, and well-being of everyone in attendance, guests are required to wear a mask and provide proof of full vaccination or proof of a negative Covid-19 test taken within 48 hours before the event.
* It also requires a TaTaTu account. Please follow the instructions below:
1. Sign up to TaTaTu via www.tatatu.com or by downloading the app;
2. Make your first post on your new TaTaTu profile;
3. On the day of the event, you will be asked to show your TaTaTu account at the entrance;
4. After the event, post photos or videos of the Festival on TaTaTu and your other social media profiles and tag @tatatuofficial. The best content will be selected to be part of a new TaTaTu campaign!
ACCORDING TO VARIETY:
https://variety.com/2022/film/global/los-angeles-italia-oscar-nominated-paolo-sorrentino-1235206909/