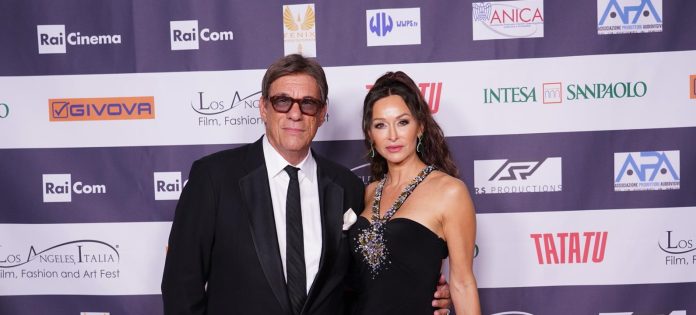 Photo: Robert Davi and Sofia Milos
***
LOS ANGELES, Jan 16 – The Italian American actor Robert Davi he will be chairing the 17th edition of the «Los Angeles, Italia – Fashion and Film Arts Festival». The classic Italian appointment on the eve of the Academy Awards, this year from 20 to 26 March, hosted by the TCL Chinese Theater of Hollywood and promoted with the support of the Dg Cinema del MiC and Intesa Sanpaolo. Davi, who came to the fore as James Bond's enemy in the film, 007 – Licence to Kill (1989), as well as thanks to other villain roles in similar cult films (The Goonies, The Son of the Pink Panther), will join the board of «LA, Italia (directed by Tony Renis and coordinated by Oscar winner Bobby Moresco) and will oversee the special contest of docu, medium and short films selected by the Filmfreeway.com platform and subsequently proposed to the public through Mymovies.it and Eventive.org.
The career
Among the most convinced international "crooners" in the myth of Frank Sinatra, Robert Davi was born in Queens to Sal, a Sicilian from Torretta, and Mary Rullo, whose family was originally from Nusco (Av). On 21 July 2015 he received the honorary citizenship of the municipality of Torretta (of which his father was a native). On television he appeared in two episodes of Criminal Minds and played the part of Special Agent Bailey Malone in the NBC series Profiler – Deadly Insights. In 2011, Davi starred in the film Kill the Irishman and starred in The Iceman (2012). In 2014, he played Goran Vata in the film The Mercenaries 3. In 2015, Robert Davi appeared in Bob Dylan's music video, The Night They Called It A Day and starred in the video for the song Above Average by J-Ax. In the same year he read a series of poems by Gabriele Tinti at the Getty Museum in Los Angeles inspired by the Boxer in repose.
The annual pre-Oscar appointment between cinema, music and a celebration of the relationship between Italy and Hollywood will celebrate the centenary of Vittorio Gassman's birth with a film retrospective. "We are delighted that Davi is at the helm of this second" complicated edition "(due to a pandemic) of the" Los Angeles Italia Festival "because Robert is a true" Italian of America "who has never lost contact with the reality of the Peninsula and who thanks to his sensitivity he will certainly know how to manage the delicate moment in which the Festival will take place », says Pascal Vicedomini, LA, Italia founder and producer. Davi has long been a member of the festival's board of directors, which also includes producers Mark and Dorothy Canton, former president of AMPAS, Cheryl Boone Isaacs, Italy's Marina Cicogna, Franco Nero, and Oscar-winning Bobby Moresco, Nick Vallelonga, Alessandro Bertolazzi, Dante Ferretti and Francesca Lo Schiavo.