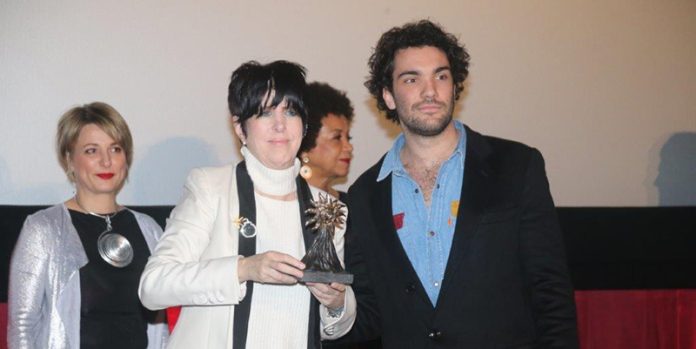 Photo: Diane Warren and Filippo Valsecchi 
---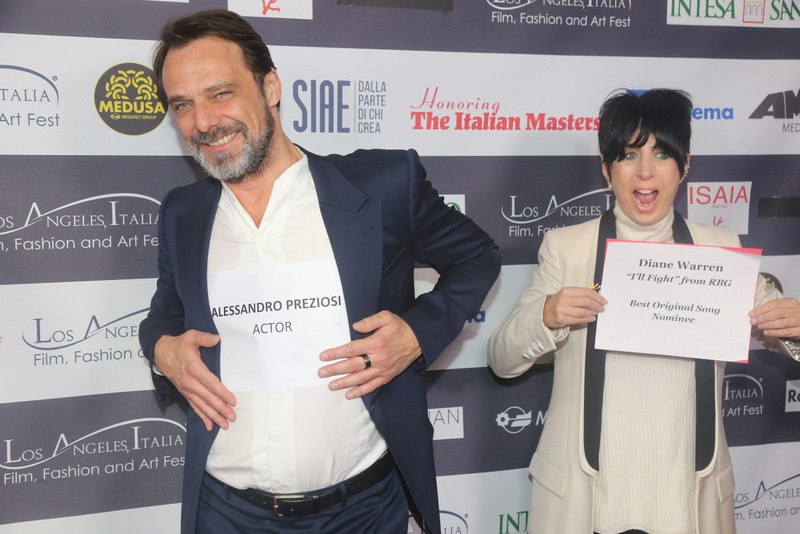 Photo: Alessandro Preziosi and Diane Warren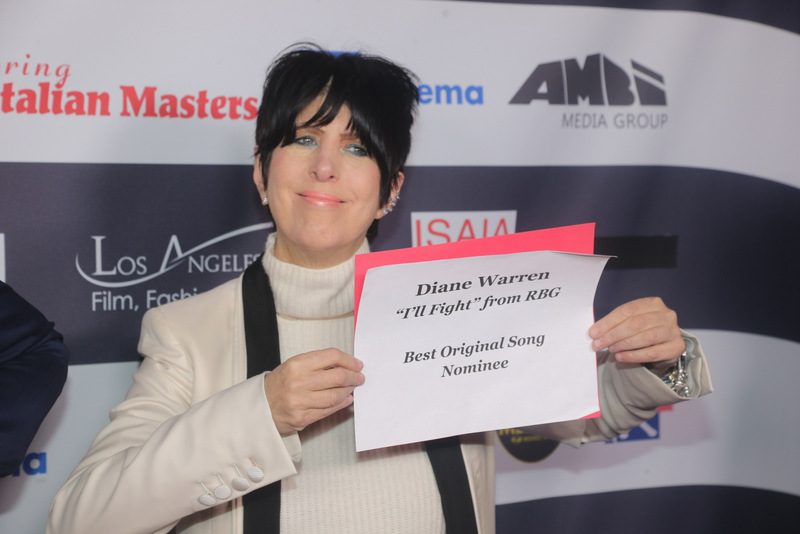 Photo: Diane Warren
ACCORDING TO THE HOLLYWOOD REPORTER:
https://www.hollywoodreporter.com/news/la-italia-fest-honor-songwriter-diane-warren-humanitarian-award-1187464
ACCORDING TO FLIPBOARD:
https://flipboard.com/topic/goldenglobes/l.a.-italia-fest-to-honor-songwriter-diane-warren-with-humanitarian-award-(exclu/f-211843f848%2Fhollywoodreporter.com
ACCORDING TO GETTYIMAGES:
https://www.gettyimages.com/detail/news-photo/diane-warren-attends-the-14th-annual-los-angeles-italia-news-photo/1130410302
---
News from 2018
DIANE WARREN RECEIVED 'BEST SONG OF THE YEAR AWARD' FOR STAND UP FOR SOMETHING AT "L.A., ITALIA'S" OPENING NIGHT CEREMONY ON FEBRUARY 25TH. LOOKING FORWARD TO THE 13th ANNUAL "L.A., ITALIA" FEST, FEB 17 – 23, 2019
ACCORDING TO THE HOLLYWOOD REPORTER:
https://www.hollywoodreporter.com/news/diane-warren-melissa-leo-be-honored-at-la-italia-fest-1087955 
ACCORDING TO DEADLINE:
http://deadline.com/2018/02/l-a-italia-festival-2018-diane-warren-melissa-leo-awards-1202301360/ 
ACCORDING TO ANSA:
http://www6.ansa.it/sito/notizie/topnews/2018/02/24/al-via-l.a.-italia-con-premi-in-rosa_19e83566-dd09-4544-a64d-9e2643b5863e.html 
2018 OSCAR® NOMINEE DIANE WARREN AND 2010 OSCAR-WINNER MELISA LEO
LEAD THE INTERNATIONAL LIST OF WOMEN IN ENTERTAINMENT
 HONORED AT THE 2018 L.A., ITALIA FESTIVAL
LOS ANGELES, February 23, 2018 – Outstanding women in the global entertainment industry are at the forefront of the 2018 L.A., Italia Film, fashion and Music Festival with Best Original Song Oscar- nominee Diane Warren ("Stand Up for Something" which she co-wrote with Common for "Marshall") and Oscar-winner Melissa Leo ("Fighter" 2010) heading the list of honorees and attendees expected at its 13th outing. Warren will be honored with the Festival's Best Song of the Year Award, while Leo has been named Italian-American Artist of the Year.
Chaired by Italian-American actress Maria Bello with film executive Dorothy Canton serving as president, the annual L.A., Italia Fest, begins February 25th at the TCL Chinese Theatres in the famed Hollywood & Highland complex, with a star-studded array of Italian, Italian-American and international artists scheduled to participate in the weeklong celebration showcasing the best of Italian culture.
"With today's emphasis on the important roles played by women in every aspect of our industry, we felt it important to spotlight some of the wonderfully talented female Italian and Italian-American artists and filmmakers that are leading, being honored at and attending this year's L.A., Italia," said Festival founder-producer Pascal Vicedomini and honorary chair Mark Canton. "They are the top of what they do and what they bring to audiences throughout the globe in the way of first class entertainment product."
Prestigious women on the Festival's board include past Academy president Cheryl Boone Isaacs, AMBI Media Group's Lady Monika Bacardi, producer Marina Cicogna, former prima ballerina Elettra Morini, the actress Ciera Foster, as well as L.A., Italia historical supporters Francesca Harrison and Arabella Petruzzi, and general manager of the festival Antonella Cocco.
The Festival's Italian delegation includes 2018 Academy Award-nominee Alessandra Querzola (for Best Production Design with David Gassner for "Blade Runner 2049″), the actresses Maria Pia Calzone ("Gomorrah"), Caterina Shulha ("Hotel Gagarin"), Emanuela Postacchini ("Alienist") and Marianna Di Martino ("Free Throw") along with directors Francesca Archibugi ("Couch Potatoes"), Francesca Comenci ("Stories of Love That Cannot Belong to This World") and Anne Riitta Ciccone ("Endless Like the Space"). The cover of the Festival's brochure features Italian icons Lina Wertmuller and Sophia Loren. Wertmuller is the first woman to ever receive an Oscar nomination as Best Director for her 1977 classic "Seven Beauties." As part of a year-long celebration marking Wertmuller's 90th birthday (August 14) LA, Italia will screen Valerio Ruiz's 2015 documentary "Behind the White Glasses," a musical portrait that shines a spotlight on the unknown aspects of her creative, visionary and groundbreaking talent.
Diane Warren is one of the most continuously prolific and successful contemporary songwriters of our time. She is the sole owner of her publishing company Realsongs. Her songs have been featured in more than 100 motion pictures resulting in nine Academy Award® nominations, most recently for the original song "Stand Up For Something" with music by Warren and lyrics by Warren and Common for the film "Marshall." The song is performed by Andra Day featuring Common. Her other Oscar nominated songs are: "Til It Happens To You," performed by Lady Gaga, from the critically acclaimed documentary The Hunting Ground; "Grateful" performed by Rita Ora for the film "Beyond the Lights"; "There You'll Be" sung by Faith Hill from "Pearl HarboR"; "Music Of My Heart" from "Music of the Heart" performed by Gloria Estefan and *NSYNC; "I Don't Want to Miss a Thing" performed by Aerosmith for "Armageddon"; "How Do I Live" from "Con Air"; Because You Loved Me" sung by Celine Dion for the film "Up Close and Personal" and "Nothing's Gonna Stop Us Now' from "Mannequin".
Warren has been nominated for 15 Grammys, and received a Grammy for the song "Because You Loved Me." She is Golden Globe Award winner for the original song "You Haven't Seen the Last of Me" performed by Cher for "Burlesque". She won the Emmy for "Til It Happens to You" from "The Hunting Ground". Warren was inducted into the Songwriters Hall of Fame in 2001.
Melissa Leo rose to prominence after appearing on several television shows and films in the 1980s, as a regular on the television shows "All My Children" for which 1985 she was nominated for a Daytime Emmy, and "The Young Riders." Her breakthrough role came in 1993 as on the television series "Homicide: Life on the Street" for the show's first five seasons (1993–97).
Leo received critical acclaim for her performance in the 2008 film "Frozen River," earning several nominations and awards, including an Oscar nomination for Best Actress. In 2010, Leo won several awards for her performance in the film "The Fighter" including the Golden Globe, SAG and Academy Award for Best Supporting Actress.
In 2013 she won an Emmy for her guest-role on the television series "Louie." She starred in the 2015 Fox event series "Wayward Pines" as Nurse Pam. She starred in Netflix's 2017 film "The Most Hated Woman in America" as American Atheists founder Madalyn Murray O'Hair and "The Novitate."
The 13th annual L.A., Italia Festival is presented by the Capri in the World Institute with special partners Intensa San Paolo, AMBI Media Group, and Isaia, under the auspices of the Italian Consulate General in Los Angeles. Ongoing supporters are the Italian Ministry of Cultural Heritage, Activities and Tourism (DG Cinema) and the Ministry of Foreign Affairs. Sponsors include ANICA, APT, and the Italian Trade Commission in association with Rai Cinema, Rai Com, Rainbow, Medusa, Mediaset Italia, ANICA, APT the Italian Trade Commission and the Italian Institute of Culture – Los Angeles.
This year's festival is dedicated to Italian icons Wertmuller, Franco Zefferelli and Bernardo Bertolucci.
L.A., Italia's sister events are Capri-Hollywood – The International Film Festival, which takes place each December, and the Ischia Global Film & Music Festival, which takes place each July.
# # #