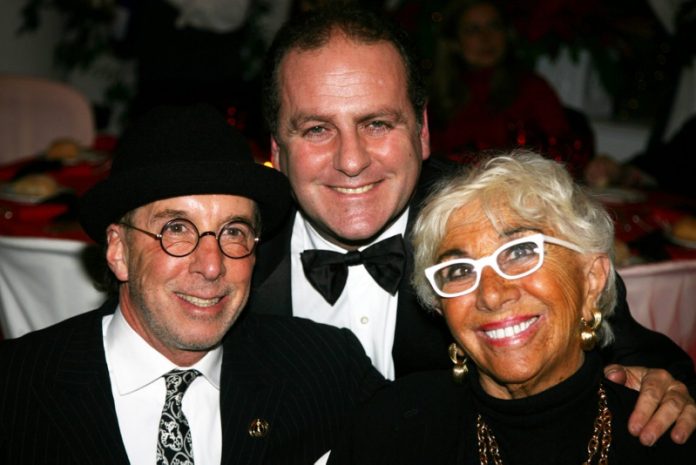 Photo: the producer Mark Canton, L.A., Italia Festival founder and producer Pascal Vicedomini and Lina Wertmuller
Photo: Maria Bello, Lina Wertmüller and Maria Pia Calzone
ACCORDING TO FILMFESTIVALS.COM:
https://www.filmfestivals.com/blog/editor/italian_american_actress_maria_bello_to_chair_la_italia_festival

ACCORDING TO ANSA:
http://www.ansa.it/sito/notizie/cultura/cinema/2018/02/04/maria-bello-presiede-los-angeles-italia_096a33ce-9e9c-4247-abd2-b4f20faede64.html
MARIA BELLO NAMED CHAIR OF 2018 LA, ITALIA FESTIVAL;
13th ANNUAL PRE-OSCAR® EVENT DEDICATED TO
LEGENDARY ITALIAN DIRECTOR LINA WERTMULLER
DOROTHY CANTON TO SERVE AS FESTIVAL PRESIDENT AND MARIA PIA CALZONE AS MISTRESS OF CEREMONY; Lady Monika Bacardi, Marina Cicogna,
Elettra Morini, Mark Frazier and Lady Francesca Harrison to Join Its' Board
LOS ANGELES, February x, 2018 – Italian-American actress Maria Bello has been selected by the Board of the Capri in the World Institute to chair the 13th Annual Los Angeles, Italia – Film, Fashion and Art Fest, which runs February 25th to March 3rd. The 2018 Festival comes to Hollywood on the eve of the Oscars, with a star-studded array of Italian, Italian-American and international artists all scheduled to participate in the week-long pre-Academy Awards celebration showcasing the best of Italian culture and will put Italian cinema in the spotlight through a series of premieres, screenings retrospectives and exhibitions.
This year's festival is dedicated to the iconic filmmaker and writer Lina Wertmuller, the first woman to ever receive an Oscar nomination as Best Director for her 1977 classic "Seven Beauties." As part of a year-long celebration marking Wertmuller's 90th birthday (August 14) LA, Italia will screen Valerio Ruiz's 2015 documentary "Behind the White Glasses," a musical portrait that shines a spotlight on the unknown aspects of her creative, visionary and groundbreaking talent.
It was further announced that Dorothy Canton, head of production at Mad Riot Entertainment and a creative executive at Atmosphere Entertainment MM will serve as the fest's president and that AMBI Group co-founder and co-president Lady Monika Bacardi, noted Italian filmmaker Marina Cicogna, former Italian prima ballerina Elettra Morini, Atmosphere's COO Mark Frazier and Lady Francesca Harrison have been added to the LA, Italia Board.
In commenting on the announcement, Festival founder and producer Pascal Vicedomini said: "There is no one more fitting than Maria Bello to chair our 2018 festival. Her love for, and support of Italy and its diverse culture knows no bounds. The idea of commemorating our dear friend Lina Wertmuller's 90th birthday makes us very happy. She has brought years of brilliance to the art of filmmaking and in doing so has entertained millions of movie-goers throughout the world."
"And we are delighted that Dorothy Canton is continuing her family's tradition with LA, Italia," Vicedomini continued. "As president, she brings a youthful perspective to what we're trying to accomplish in building an ongoing media bridge between the entertainment communities in Italy and Hollywood."
Maria Bello, a two-time Golden Globes nominee, is currently starring in the hit CBS TV series, "NCIS." During her career, she has appeared in the films "Permanent Midnight" (1998), "Payback" (1999), "Coyote Ugly" (2000), "The Cooler" (2003), "A History of Violence" (2005), "Thank You For Smoking" (2006), "The Jane Austen Book Club" (2007) "The Mummy: Tomb of the Dragon Emperor" 2008), "Prisoners" (2013), and "Lights Out" (2016) to name a few. On television she is best known for her role as Dr. Anna Del Amico on the NBC medical drama "ER" (1997-1998). Bello also starred as Lucy Robbins on the Fox series "Touch" alongside Kiefer Sutherland in 2013 and plays Michelle McBride on the Amazon original series "Goliath." In 2017 she received an LA, Italia Excellence Award for her performance in the fest's closing film, "In Search of Fellini."
It has been written that Wertmuller's movies should be defined as "Comedies à la Wertmuller." Her exaggerated and grotesque stories are punctuated with explosive emotions and are mixed with satire, ironic criticism to male chauvinism, feminism, melodrama and realism. More than 50 years have passed since her debut behind the camera ("The Lizards," 1963) and the director has never stopped making new plans, writing, and living her life with amusement, passion and honesty. After starting out as Fellini's assistant, she directed programs that made Italian TV history, following which she went on to direct memorable films such as "The Seduction of Mimi" (1972), "Love and Anarchy" (1973), "Swept Away" (1974) and "A Night Full of Rain" (1978), amongst others. In 1985, she received the Women in Film Crystal Award for outstanding women who, through endurance and the excellence of their work, have helped to expand the role of women within the entertainment industry.
Dorothy Canton is a communications professional with experience in motion picture and television entertainment. She recently was an associate producer on two movies – the recently released "Den of Thieves," and last year's "The Comedian." Canton began her career at NBC Universal and held assignments with "Saturday Night Live," Focus Features and the USA Network, amongst other high-profile productions. A graduate of Syracuse University and a Los Angeles native, she works bi-coastal with a presence in New York City and Los Angeles.
With producer Mark Canton returning as honorary chair, the 13th Annual Los Angeles, Italia – Film, Fashion and Art Fest is presented by the Capri in the World Institute with the ongoing support of the Italian Ministry of Cultural Heritage and Activities (DG Cinema), ANICA, the Italian Trade Commission, SIAE, the National Italian American Foundation, AMBI Media Group, Rai Cinema, Mediaset Italia and ISAIA, as well as the Hollywood Chamber of Commerce and the Italian Consulate General in Los Angeles.
The event's sister festivals are the Capri-Hollywood International Film Festival, which takes place each December, and the Ischia Global Film & Music Festival, which takes place each July.
# # #