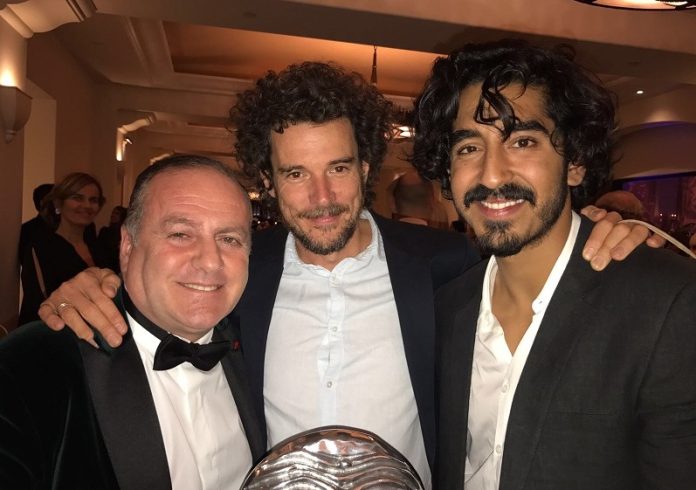 Photo: Pascal Vicedomini, Garth Davis and Dev Patel
ACCORDING TO THE HOLLYWOOD REPORTER
http://www.hollywoodreporter.com/news/la-italia-honor-dev-patel-best-supporting-actor-award-979125 
http://www.hollywoodreporter.com/news/la-italia-honor-dev-patel-best-supporting-actor-award-979125
 

L.A. Italia to Honor Dev Patel With Best Supporting Actor Award

12:53 PM PST 2/23/2017 by Ariston Anderson

Courtesy of Mark Rogers/ Long Way Home Productions/The Weinstein Company 

Dev Patel in 'Lion'

Other honorees at the festival's closing-night ceremony include Sting, Maria Bello and Gianfranco Rosi.

The L.A. Italia festival on Friday night will hold its closing ceremony at the Grauman's Chinese Theatre with its own awards show before Oscar Sunday.

Academy Award nominee Dev Patel will receive the fest's best supporting actor honor for his work in Lion. During the event's opening ceremony, the drama picked up the award for best film and its other star, Sunny Pawar, took home the best young actor prize.

Sting and J. Ralph will receive the L.A. Italia Humanitarian Award for their Oscar-nominated song "The Empty Chair" from the documentary Jim: The James Foley Story. It is Sting's fourth Academy Award nomination and J. Ralph's third. Both artists have highlighted social activism throughout their careers by bringing to light human rights, environmental and social policy issues through film and music. 

Paul Haggis and David Belle will also receive the L.A. Italia Humanitarian Award honoring their non-profit organization Artists for Peace and Justice, which supports community programs in Haiti through education, healthcare and the arts.

Oscar nominees Giorgio Gregorini and Alessandro Bertolazzi (Suicide Squad) will receive the fest's best make-up award.

As previously announced, Gianfranco Rosi, who is nominated for an Oscar for his refugee film Fire at Sea, will receive the festival's L.A. Italia Master of Documentary Award.

And Maria Bello will receive an L.A. Italia Excellence Award before the screening of her closing-night film In Search of Fellini.

Other L.A. Italia Excellence Awards will be given out to directors Giovanni Veronesi and Carlo Carlei and musicians Giuliano Sangiorgi, Clementino, The Tenors and LP.

Other honors given out on opening night went to Hacksaw Ridge's Mel Gibson, who was named best director;Sylvester Stallone, who received the Jack Valenti Award; and Justin Hurwitz, who earned the best song of the year prize for "City of Stars" from La La Land. The festival wraps up on Saturday after a week of events including retrospectives dedicated to Marcello Mastroianni and Dean Martin as well as the best of recent Italian films and music.