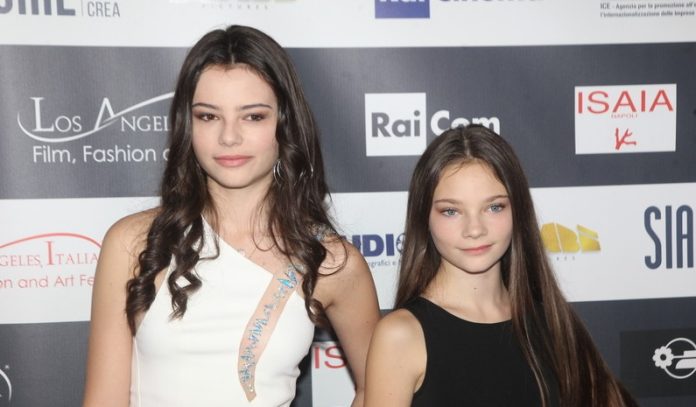 Photo: Eleonora and Veronica Gaggero 
The film, which is directed by Luca Lucini and written by Gennaro Nunziante, and stars an impressive line-up of great Italian actors, opened in Italian theatres on November 24, 2016. 
 
 
Production of the film Come Diventare Grandi Nonostante i Genitori was being produced and shoted in its entirety in Italy. The film, which was released on November 24th, is directed by Luca Lucini,  and written by Gennaro Nunziante, who wrote many successful films in the last fifteen years: more recently, he wrote the highest grossing Italian film ever, which opened on January 2016.
Piero Crispino is the producer for 3zero2, and it will be released by Disney Italia.
 
Come Diventare Grandi Nonostante i Genitori stars the American film actor Matthew Modine and award-winning actresses Margherita Buy and Giovanna Mezzogiorno, as well as Sergio Albelli, Ninni Bruschetta, Paolo Calabresi, Giovanni Calcagno, Roberto Citran, Francesca De Martini, Sara D'Amario, Gabriella Franchini, Elena Lietti, Aglaia Mora and Paolo Pierobon. In addition Federico Russo, a very popular radio speaker and Tv host, will play a cameo role.
The cast also includes a number of young and talented actors such as Emanuele Misuraca, Chiara Primavesi, Toby Sebastian and some actors from the famous Tv series Alex&Co such as Leonardo Cecchi, Federico Russo, Saul Nanni, Eleonora Gaggero and Beatrice Vendramin.
 
More often than not, parents are in open contrast with their children's teachers: They always question their judgment and see conspiracies everywhere, failing to realize that by doing so they severely impair the growth of their kids. The parents always say "We know our child better than everyone, and we know exactly what he has to learn". That's exactly what happens to the young cast of "Come diventare grandi nonostante i genitori". When the new high school principal, who doesn't approve recreational activities, decides not to allow the participation of her students to the national battle of the bands, boys and girls suffer a mortal blow: They live to make music. But when the parents start to protest the decision, the principal decides to double the daily homework. After the first bad grades, the parents decide to stop the protest and submit to the principal's decision. However, fueled by their pride, the kids sign up for the battle of the bands despite their parents' decision. Facing impossible odds, boys and girls will learn to grow up in surprising ways.