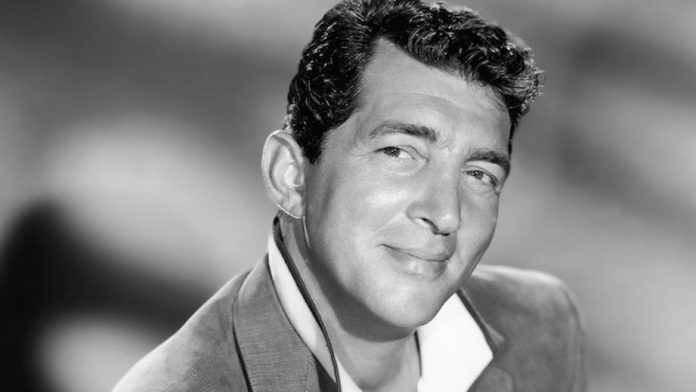 VIDEO: "THE CADDY" BY NORMAN TAUROG – DEAN MARTIN SINGS FOR THE FIRST TIME "THAT'S AMORE"
https://www.youtube.com/watch?v=aFSv-tq5GAY 
VIDEO: DEAN MARTIN SINGS "VOLARE"
https://www.youtube.com/watch?v=5JEQIQmQa-c&app=desktop 
ACCORDING TO THE HOLLYWOOD REPORTER
http://www.hollywoodreporter.com/amp/news/la-italia-fest-celebrate-dean-martin-965387?client=safari 
ACCORDING TO HONG KONG HERALD
http://www.hongkongherald.com/index.php/sid/251001527 
ACCORDING TO TORONTO TELEGRAPH
http://www.torontotelegraph.com/index.php/sid/251001527 
ACCORDING TO DENVER SUN
http://www.denversun.com/index.php/sid/251001527 
ACCORDING TO LOS ANGELES HERALD
http://www.losangelesherald.com/index.php/sid/251001527 
ACCORDING TO IMDB
http://www.imdb.com/news/ni60675670/ 
ACCORDING TO SAN DIEGO SUN
http://www.sandiegosun.com/index.php/sid/251001527 
ACCORDING TO ANSA
http://www.ansa.it/sito/notizie/cultura/2017/01/15/los-angeles-italia-omaggio-ai-100-anni-di-dean-martin_c209fcc9-fcfe-4ea6-a810-a7637b178f4a.html 
http://www.ansa.it/sito/notizie/cultura/cinema/2017/01/15/la-italia-omaggio-a-dean-martin_15d3fbeb-a9c0-4644-996a-c35532c7dcb9.html ù
BIOGRAPHY: ACCORDING TO DEANMARTIN.COM
Playboy called him "the coolest man who ever lived." Elvis Presley worshipped him. "He was the coolest dude I'd ever seen, period," recalled Stevie Van Zandt, adding, "He wasn't just great at everything he did. To me, he was perfect."
That man is Dean Martin. Simply put, he was a great singer. The warm sensuality of his voice continues to beguile generations of music fans with a winning style and a touch of mystery.
Born Dino Crocetti in Steubenville, Ohio, his early autobiography is as gritty as that of any hip-hop star. He delivered bootleg liquor, served as a speakeasy croupier and blackjack dealer, worked in a steel mill and briefly ruled the ring as boxing phenom Kid Crochet. Winning his share of bouts earned him little apart from a broken nose, but Dino's speakeasy experience put him in contact with club owners, resulting in his first singing gigs.
With a fixed nose and a boost from his pals in the nightclub underworld, he became Dean Martin, styling himself after the top male vocalist of the time, Bing Crosby, and met Frank Sinatra in New York.
Martin released his first single, "Which Way Did My Heart Go?" and was first paired with comic Jerry Lewis. The two shared a bill at the 500 Club in Atlantic City, but the night they combined their acts into a combo of manic comedy and debonair music saw the birth of a phenomenon. They were the hottest ticket around and parlayed their onstage success into a string of hit movies and television appearances.
During Martin and Lewis' decade-long partnership, Dean had such hits as "Memories Are Made of This," "That's Amore," "Powder Your Face With Sunshine," and "You Belong to Me," among others, all for the Capitol label. Yet when their partnership dissolved, showbiz pundits predicted Lewis' star would continue to rise and Martin's would fizzle.
The singer confounded the skeptics. As a solo act he was wowing crowds in Vegas, impressing critics and audiences in a series of dramatic film roles, scoring on TV with Dean Martin Show specials for NBC, and hitting the charts again with "Return to Me" and "Volare."
Not soon after, Martin's affiliation with Frank Sinatra, Sammy Davis, Jr. and the rest of the fabled Rat Pack supplanted his earlier rep. He fueled his image as a boozing playboy in onstage antics with his pals and ring-a-ding ensemble films like Ocean's Eleven, yet Martin later claimed his cocktail-swilling persona was largely a pose.
Though he left Capitol to sign with Sinatra's fledgling Reprise label, Martin capped his tenure there with a bang, releasing two classic singles, "Ain't That a Kick in the Head" and "You're Nobody 'Til Somebody Loves You," showcasing him at the height of his powers.
Even at the height of Beatlemania with the group topping the charts, Martin reasserted himself with typical aplomb knocking the Fab Four from their perch with the buttery anthem "Everybody Loves Somebody." Several other hits, including "The Door Is Still Open to My Heart," "I Will," "Houston" and "Send Me the Pillow You Dream On," followed during his years at Reprise.
Though he continued to perform, Martin's visibility was greatest in films and on TV, where he nursed his lush-in-a-tux image with the long-running Dean Martin Variety Show and the hugely successful Dean Martin's Celebrity Roast.
His effortless vocalizing has become a modern shorthand for cool, as evidenced by the use of his songs in films, television, and ad campaigns. Dino: The Essential Dean Martin, a recent collection of both the Capitol and Reprise eras, sold more briskly than any previous Martin recording, going gold within months and platinum within a year.
2017 LOS ANGELES, ITALIA FEST TO CELEBRATE
CENTENNIAL OF DEAN MARTIN's BIRTH
Homage To The Legendary Italian-American Performer Will Begin February 19th
ROME, ITALY, January xx, 2017 – Initiating the year marking the centennial of Dean Martin's birth, the 2017 Los Angeles, Italia – Film, Fashion and Art Fest will celebrate one of the greatest Italian-American stars of all times with a series of initiatives that will take place between Italy and America, it was announced today by festival founder and producer Pascal Vicedomini. Amongst the most popular and enduring American entertainers of the mid-20th century, Martin was nicknamed the "King of Cool" for his seemingly effortless charisma and self-assurance.
The 12th annual edition of the eagerly anticipated Italian arts festival, takes place from February 19th to the 25th, the week preceding the Academy Awards®, at the Hollywood & Highland Center in Los Angeles and will feature a film retrospective and several musical performances designed to pay tribute to the beloved Italian-American singer, actor and film producer.
"Dean Martin was a true Italian-American show business legend and we are pleased to commemorate the centennial of his birth with a tribute that will highlight his exceptional career via an homage of his most memorable motion pictures," said Vicedomini. "We'll also have several other surprises that will be reflective of this multi-talented, revered entertainer."
In 1946 Martin teamed up with comedian Jerry Lewis, which marked the beginning of a decade-long partnership that included performances at prestigious nightclubs, on television – where they made their debut on "The Ed Sullivan Show," on radio and in motion pictures. They lasted 11 years together and starred in 16 movies.
Martin began a solo career as an actor in the 1958 film "The Young Lions" with Marlon Brando and Montgomery Clift. He then appeared alongside Frank Sinatra for the first time in Vincente Minnelli's "Some Came Running," and by the mid-1960's he was a movie, recording, television and nightclub star. His film career included roles in films such as "Rio Bravo," directed by Howard Hawks which also starred John Wayne, with whom he later appeared in "The Sons of Katie Elder" (1965).
Martin and Sinatra starred together in several more movies including the highly-popular crime caper "Oceans 11," and the musical "Robin and the 7 Hoods" and others which featured their so-called Rat Pack pals Sammy Davis, Jr., Peter Lawford and Joey Bishop. He also starred with Shirley MacLaine in a number of films including "Some Came Running," and played the womanizing secret agent Matt Helm in three spy spoofs.
In 1965, Martin launched his weekly NBC comedy-variety series, "The Dean Martin Show," in which he capitalized on his laid-back persona of a carefree crooner. It ran for 264 episodes until 1974.
Many of Martin's songs have been featured across popular culture for decades. Hits such as "Ain't That a Kick in the Head", "Sway," "You're Nobody 'Till Somebody Loves You," "That's Amore," and Martin's signature song "Everybody Loves Somebody" have been in films such as "Casino," "Goodfellas," and "Moonstruck," television series such as "Friends," "The Sopranos," and "House MD," video games such as "The Godfather: The Game," and fashion shows such as the 2008 "Victoria's Secret Fashion Show."
LA Italia 2017 is presented by the Capri in the World Institute with the support of the Ministry of Cultural Heritage and Activities (DG Cinema) in collaboration with ANICA, ICE, AMBI Group and ISAIA. It is also sponsored by the Hollywood Chamber of Commerce and the Italian Consulate General in Los Angeles.