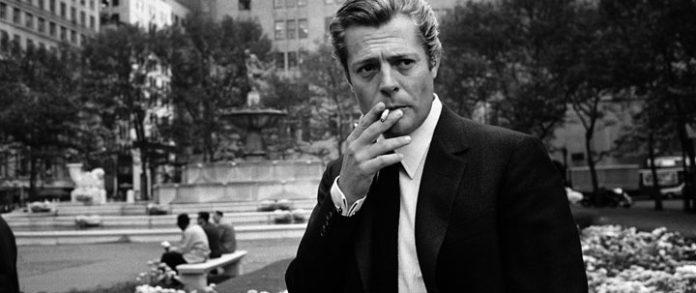 ACCORDING TO THE HOLLYWOOD REPORTER
http://www.hollywoodreporter.com/news/la-italia-fest-honor-actor-marcello-mastroianni-963622?utm_source=Sailthru&utm_medium=email&utm_campaign=THR%20International_now_2017-01-12%2008:58:52_gszalai&utm_term=hollywoodreporter_international 
BIOGRAPHY: ACCORDING TO IMDB
http://www.imdb.com/name/nm0000052/bio 
Marcello Mastroianni was born in Fontana Liri, Italy in 1924, but soon his family moved to Turin and then Rome. During WW2 he was sent to a German prison camp, but he managed to escape and hide in Venice. He debuted in films as an extra in Marionette (1939), then started working for the Italian department of "Eagle Lion Films" in Rome and joined a drama club, where he was discovered by director Luchino Visconti. In 1957 Visconti gave him the starring part in his Fyodor Dostoevsky adaptation Le notti bianche (1957) and in 1958 he was fine as a little thief in Mario Monicelli's comedy I soliti ignoti (1958). But his real breakthrough came in 1960, when Federico Fellini cast him as an attractive, weary-eyed journalist of the Rome jet-set in La dolce vita (1960); that film was the genesis of his "Latin lover" persona, which Mastroianni himself often denied by accepting parts of passive and sensitive men. He would again work with Fellini in several major films, like the exquisite 8½ (1963) (as a movie director who finds himself at a point of crisis) and the touching Ginger e Fred (1986) (as an old entertainer who appears in a TV show). He also appeared as a tired novelist with marital problems in Michelangelo Antonioni's La notte (1961), as an impotent young man in Mauro Bolognini's Il bell'Antonio (1960) , as an exiled prince in John Boorman's Leone l'ultimo (1970), as a traitor in Paolo and Vittorio Taviani's Allonsanfàn (1974) and as a sensitive homosexual in love with a housewife in Ettore Scola's Una giornata particolare (1977). He was nominated for the Academy Award for Best Actor three times, for Divorzio all'italiana (1961), Una giornata particolare (1977), and Oci ciornie (1987). During the last decade of his life he worked with directors, like Theodoros Angelopoulos, Bertrand Blier and Raoul Ruiz, who gave him three excellent parts in Tre vite e una sola morte (1996). He died of pancreatic cancer in 1996.
LA, Italia Fest to Honor Actor Marcello Mastroianni
A retrospective of films starring Italy's most iconic actor is coming to Hollywood.
The upcoming LA, Italia Film, Fashion and Art Fest will be dedicated to iconic Italian actor Marcello Mastroianni and include a retrospective of films featuring the beloved leading man of directors including Antonioni, Fellini, De Sica, Germi, Scola and Visconti.
"In 1962, Time magazine said that Mastroianni was the most beloved foreign actor in America — thanks to his timeless elegance and charm," festival founder and director Pascal Vicedomini said Wednesday in a statement. "So, 20 years after his death, we are going to celebrate his memory with a retrospective in Los Angeles aimed at reaching both younger generations of moviegoers as well as cinema students."
Mastroianni, whose career spanned 160 films, was nominated three times for an Academy Award for Divorce Italian Style (1961), A Special Day (1977) and 1987's Dark Eyes (he won the Golden Globe for Divorce Italian Style). American audiences know him best as the face of La Dolce Vita (1960) and 8½ (1961). Yesterday, Today and Tomorrow (1963), which starred Mastroianni opposite Sophia Loren, won helmer Vittorio Di Sica the Oscar for best foreign film. He is one of only three actors to win the best actor prize twice at Cannes, for his films The Pizza Triangle (1970) and Dark Eyes. Mastroianni died in 1996 from pancreatic cancer.
"Mastroianni continues to be a source of inspiration for many American performing artists who love Italian cinema, along with the numerous directors who consider him to be an icon," said Mark Canton, the LA, Italia fest's honorary chairman.
The 12th edition of the festival is set to run Feb. 19-25 at Hollywood's Chinese Six Theater complex, presented by the Capri in the World Institute.
ACCORDING TO ANSA:
http://www.ansa.it/sito/notizie/cultura/cinema/2017/01/08/cinema-la-italia-ricorda-mastroianni_88280940-3fec-4bc4-8ba8-fde8adcad07b.html