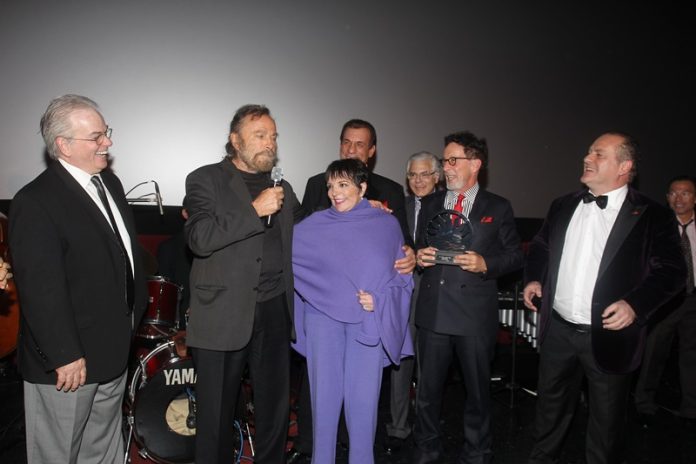 Photo: Bobby Moresco, Franco Nero, Robert Davi, Liza Minnelli, Antonio Verde (Consul General of Italy in LA), Mark Canton and Pascal Vicedomini
ACCORDING TO THE HOLLYWOOD REPORTER:
http://www.hollywoodreporter.com/news/la-italia-festival-liza-minnelli-772465
L.A. Italia Festival to Honor Liza Minnelli With Lifetime Achievement Award
ACCORDING TO VARIETY
http://variety.com/2015/film/news/liza-minelli-to-receive-jack-valenti-los-angeles-italia-legend-award-1201430954/ 
Liza Minnelli To Receive Jack Valenti – Los Angeles, Italia Legend Award
ACCORDING TO DAILY MOTION
http://www.dailymotion.com/video/x2gyjre_l-a-italia-festival-to-honor-liza-minnelli-with-lifetime-achievement-award_people 
L.A. Italia Festival to Honor Liza Minnelli
ACCORDING TO BROADWAY WORLD
http://www.broadwayworld.com/article/Liza-Minnelli-to-Receive-2015-Jack-Valenti-Legend-Award-20150211# 
Liza Minnelli to Receive 2015 Jack Valenti Legend Award
ACCORDING TO SCREEN INTERNATIONAL
http://m.screendaily.com/5083188.article 
L.A. Italia FF to honour Liza Minnelli
ACCORDING TO RTE.IE
http://www.rte.ie/…/679593-liza-minnelli-for-lifetime-achi…/ 
Liza Minnelli for Lifetime Achievement Award
—————————————————————————————————
2015 JACK VALENTI – LOS ANGELES, ITALIA LEGEND AWARD
Award To Be Presented
During The Festival's Closing Night Ceremonies On February 20th
LOS ANGELES, CA, February 9, 2015 – The legendary Liza Minnelli, who won the Academy Award® for "Cabaret," has been named the recipient of the 2015 JACK VALENTI – LOS ANGELES, ITALIA LEGEND AWARD. Named in memory of long-time MPAA president Jack Valenti, it is the festival's highest honor and is given annually to an outstanding Italian-American who has made major contributions to the global motion picture industry. Al Pacino and Anjelica Huston are the prior recipients.
The award will be presented to Minnelli on the evening of February 20th during the festival's closing night ceremonies. The 10th annual L.A., Italia Fest begins February 15th at the TLC Chinese 6 Theatres in the famed Hollywood & Highland complex, with a star-studded array of Italian, Italian-American and international artists scheduled to participate in the weeklong celebration showcasing the best of Italian culture. This year's festival is dedicated to Frank Sinatra in commemoration of the 100th anniversary of his birth.
"We are extremely honored and delighted to be presenting this year's JACK VALENTI LEGEND AWARD to the talented and lovely Liza Minnelli," said festival founder and producer Pascal Vicedomini and festival honorary chair Mark Canton. "As in prior years our Board aims to recognize highly talented Italian-Americans who have made an impact on the industry and without a doubt, Liza fits the bill."
"I am very grateful to receive the 2015 JACK VALENTI – L.A., ITALIA LEGEND AWARD," said Liza. "I was fortunate to watch my father Vincente Minnelli direct some of the greatest motion pictures Hollywood has produced and from him I received two wonderful things: my love of movies and my Italian heritage. Both Jack Valenti and my father were pioneers in their own way and I hope that they would be proud of my own contributions to the movies."
The daughter of Judy Garland and movie director Vincente Minnelli, Liza is truly a Hollywood icon and was practically raised at MGM studios while her parents worked long hours. Liza won the first of her four Tony Awards at age nineteen and was nominated for her first Academy Award at age twenty-three for "The Sterile Cuckoo" (1969). Other dramatic roles followed and, in1972, she garnered an Oscar for her performance as Sally Bowles in "Cabaret." Among her many honors, she also won three of Italy's prestigious David di Donatello Awards (including Best Foreign Actress" for "Sterile Cuckoo" and "Cabaret"), two Golden Globes® as well as four additional Globes nominations, and a BAFTA nomination and award for "Sterile Cuckoo" and "Cabaret" respectively. She won the Grammy Living Legend Award in 1990 and was inducted into the Grammy Hall of Fame in 2008.
Having a long history with Frank Sinatra, Liza teamed with Sinatra on his famous "Duets" CD and Sammy Davis Jr. joined the two legendary singers for a series of concerts which were extremely well received worldwide.
L.A., Italia will be launched February 15th with the presentation of an "Award of Excellence" to late night talk show host Jimmy Kimmel and the world premiere showing of Marco Pontecorvo's latest movie, "Partly Cloudy (With Sunny Spells)" starring John Turturro and Luca Zingaretti.
Oscar-winning writer Bobby Moresco ("Crash") is chairing this year's festival with Lady Monika Bacardi as its president and Mark Canton serving as chairman of the Honorary Board which includes Italian producer Marina Cicogna, director Lina Wertmuller, actor Franco Nero, Italian music legend Tony Renis, and Valerio Massimo Manfredi.
Acknowledged by the media as one of the most exciting Italian film events in the world, since 2006, L.A., Italia has been presented under the auspices of the Capri in the World Institute with the support of MIBACT (DG Cinema), Italian Trade Commission, ANICA and with the sponsorship of Bank of the West, the National Italian American Foundation (NIAF), Enigma GB, and Ambi Pictures. Sister film festivals including Capri, Hollywood – The International Film Festival in December and the Ischia Global Film & Music Festival in July are also under the domain of Vicedomini.
Additional L.A., Italia 2015 supporters include the Ministry of Foreign Affairs, the Ministry of the Economic Development and the Hollywood Chamber of Commerce. It is organized with the participation of the Italian Consulate General, the Italian Trade Commission and the Los Angeles Italian Culture Institute, Cinecittà Studios, Luce Cinecittà, and Italian Independent Productions.