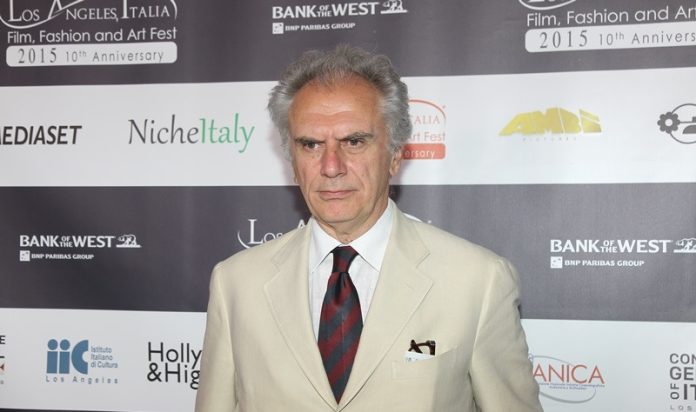 presents
PRODUCTIONS 2014/2015
AMBI Pictures, the international group whose partners are the producer Andrea Iervolino, and the entrepreneur Monika Bacardi, is undertaking is to provide financial backing for medium to high-budget international films featuring Hollywood names. AMBI Pictures has already produced dozens of films and is today operating in a number of different EU countries as well as in North America.
Andrea Iervolino, who has been a producer since the age of 16, has produced, financed and distributed more than 40 features. A partner and founder of a number different production companies, he is currently the youngest and most highly regarded Italian entrepreneur in the filmmaking sector.
Monika Gomez del Campo Bacardi Lady of Bayfield Hall, better known as "Monika Bacardi", is a businesswoman and a film producer, the co-founder of the AMBI Pictures group, and actively involved in numerous philanthropic ventures.
Andrea Iervolino and Monika Bacardi also founded AMBI Distribution, based in Beverly Hills, California, a worldwide sales agency that vertically integrates finance, production and distribution for AMBI Pictures.
AMBI Pictures produced eight feature films in 2014 including the action-thriller "2047 Sights of Death" starring Danny Glover, Daryl Hannah, Rutger Hauer, Stephen Baldwin and Michael Madsen; the Barry Levinson directed drama, "The Humbling", starring Al Pacino, Greta Gerwig, Kyra Sedgwick, Charles Grodin and Dianne Wiest; and the crime-thriller "Hope Lost" starring Danny Trejo, Mischa Barton and Michael Madsen.
Recently AMBI produced "Andron – The Black Labyrinth", by Francesco Cinquemani starring Alec Baldwin, Danny Glover, Gale Morgan Harold III and the singer Skin.
Andrea Iervolino and the director Marco Risi, in collaboration with Monika Bacardi produced "Tre Tocchi", by Marco Risi. In collaboration with Paradox Studios, AMBI Pictures is also in production with the romantic comedy "All Roads Lead To Rome" starring Sarah Jessica Parker.
AMBI Pictures is financing and producing with Franco's Rabbit Bandini Productions and That's Hollywood Pictures a film directed by James Franco and based on Steinbeck's gritty, realist style novel: "In Dubious Battle". Starring James Franco, Selena Gomez, Vincent D'Onofrio, Robert Duvall, Ed Harris, Bryan Cranston and Danny McBride.
Andrea Iervolino and Monika Bacardi are also the co producers of the film "September of Shiraz", with the stars Salma Hayek and Academy Award Winner Adrien Brody.
The company has also recently ventured into the world of animation, with two animated features: "Arctic Justice – Thunder Squad" and "East End".
Photo: Barry Levinson and Marco Risi with Ambi Pictures toppers Lady Monica Bacardi and Andrea Iervolino