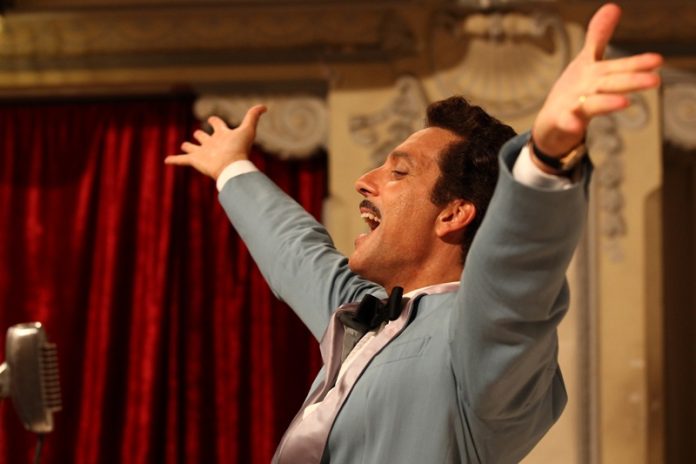 RAI FICTIONS
presents
A
A RAI FICTION – COSMO PRODUCTION S.R.L.
PRODUCTION
in association with EUROPRODUZIONE
GIUSEPPE FIORELLO
in
VOLARE
The Great Story of Domenico Modugno
Directed by
RICCARDO MILANI
Story treatment by
Sandro Petraglia
and
Stefano Rulli
Domenico, a.k.a. Mimmo, has barely outgrown his childhood when he escapes from the poverty of a small village in the Southern region of Apulia, seeking to make his fame and fortune in Rome. Thousands of other young men during those post-war years, when Italy is struggling to piece itself back together again, board the so-called "Sun trains" to look for work in the factories of Milan, Turin and Genoa. But not Domenico Modugno. He feels the call of the stage, he wants to become an actor. Problem is, he has no money, and there is precious little his parents can do to help. To travel to Rome, and audition at the Centro Sperimentale di Cinematografia film school, he hitch-hikes on a bus of pilgrims heading northwards for the Holy Year. His first accomodation in the capital is a shelter for the homeless. Having been offered hospitality for three days, he lies and cajoles his way into staying there for a few months. As he waits for the audition results, his only means of survival is singing for his supper, quite literally, in his own dialect in Roman haunts. The good news is, he gets into the film school against the odds of thousands of other candidates for the acting and directing courses.
Still, the struggle is an uphill one: his heavily accented Italian does not help, and neither does his insubordination to rules and regulations. But he's got talent, and by the end of the fresher's year he is top of his class. His days are long and tough: course-work in the mornings, long queues in the afternoons at the gates of the Cinecittà film studios in the hope of landing a walk-on part in some B-movie, or one of those light-entertainment musical flicks led by the undisputed king of Italian song, Claudia Villa. In the evenings, Mimmo sings in small downtown bars.
This is the Italy of the fifties, with a backbone of young men full of dreams and not a penny to spare. The context is harsh and yet open to possibilities. There is frustration, but also magic in the air, the possibility for "poor but handsome" men and women to make their way up thanks to talent and initiative. Mimmo meets the friends of a lifetime, Franco Migliacci and Riccardo Pazzaglia. The one an anarchist from Tuscany, a ladies man who scrapes a living inking children's cartoons on a small publication run by the Communist Party. The other, passionate about highly artistic cinema, and sadly shackled down to the role of second AD, whose main responsibility is to ensure centurions don't walk on set with wristwatches and mocassin shoes. They stick together through good times and bad times, they share defeats and rejections, but also cheery adventures and dream-like moments, such as Mimmo's opportunity to sing over the radio with Frank Sinatra in the audience. "The Voice" wants to cover the song in the States, but Mimmo's never makes it to the airport in time to hand over the lyrics and Frank flies away. Another magical moment? A woman at the wheel of a convertible stops by one night as Mimmo and guitar is piecing together one of his future hits "Vecchio Frac". The women is Anna Magnani.
Film School is not just the cradle for new friends, but for love, too. She is Franca Gandolfi, a fresher, beautiful and talented. A love that will last a lifetime, but not without its ups and downs. He is not exactly the faithful type, and she has a jealous streak. There is passion, break-ups and tearful reconciliations. Mimmo never had any problems with poverty, with long, exhausting travels to France and Canada to sing for the expatriat community. It's tough, but he can manage. But his first, truly-felt defeat, is the break-up with Franca after a couple of years. It is painful, it brings about a good, hard stare into reality: his dream of becoming a movie star is little more than a flight of fancy. Better to make up with Franca, take out a mortgage, and bet on a musical career, on the songs he's been writing mostly for his own personal enjoyment.
The big names on the Italian musical scene are Claudio Villa, Giorgio Consolini, Gino Latilla, Achille Togliani: sighs, tears and syropy melodies. Not what Mimmo is looking for, he wants something deeper. The sheer force and appeal of his music is revolutionary. It is a mix of the old and the new, it is the meeting point of Italy with the Mediterranean. His words are a faithful tribute to life's dreams and tribulations. The voice of those who suffer injustice, fight and are sometimes beat. It's success, at last. Mimmo lands a contract with RCA, he has a captive audience, albeit a limited one. Critics praise him, but record sales are not deemed sufficient by RCA and the contract is wound up two years later. This is 1957, the threshold of the so-called economic miracle, of the sudden leap forward that will propel Italy on the big time international scene. Mimmo won't take no for an answer, he finds a new label, a new producer and aims even higher. He lets go of his regional dialect: the time has come to sing in Italian about a future world of hope and color.
Mimmo heads straight to the Italy's musical Olympus, the Sanremo music festival, to take on the establishment. He picks a song with vision, perhaps a little crazy but with a great faith in the future: Nel blu dipinto di blu. The story of a song that will change forever the musical scene is a beautiful tale, involving not just Mimmo, but those near and dear to him. Sanremo goes wild, and out of the blue comes the news that Franca is with child. His song is not just an award-winner, it is the soundtrack to a country now aiming for the sky, for prosperity and modernity. Volare sells millions, and Mimmo becomes a star. He is the living symbol of how Italy has changed in the course of three decades from a defeated nation to a leader of the Western world.