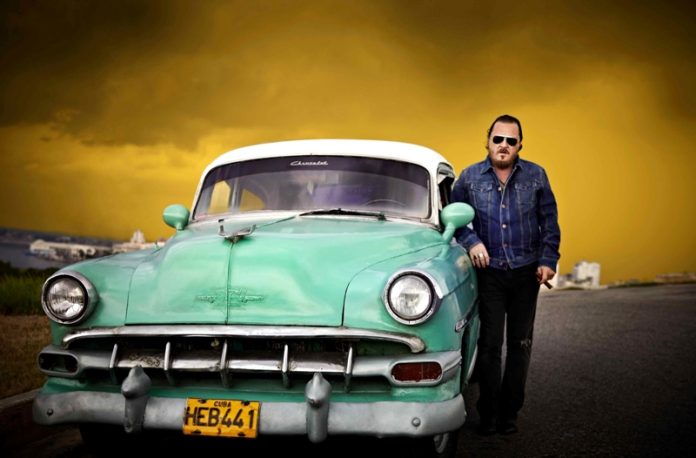 ITALY'S VETERAN ROCK STAR ZUCCHERO MAKES MUSIC FOR THE WORLD WITH THE SOUNDS OF CUBA ON HIS NEW ALBUM LA SESIÓN CUBANA PRODUCED BY ZUCCHERO AND GRAMMY-AWARD WINNING DON WAS AVAILABLE EVERYWHERE FEBRUARY 26TH ON DECCA
(December 11, 2012—New York, NY) Zucchero ("Sugar" in Italian) is Italy's most beloved rock star and one of the top Italian artists worldwide, having sold over 40 million records throughout a career spanning over four decades. Following his last acclaimed studio album, Chocabeck (2011) and a successful worldwide tour, Zucchero is back with a new album and direction, paying tribute to the musical sounds of Cuba. Recorded with some of Cuba's top musicians, Zucchero explores the native sounds of Havana on La Sesión Cubana. This inspired collection will be available February 26th on Decca and features songs in English, Spanish, Portuguese and Italian. (Versions in all Italian and all Spanish will also be released on 2/26).
La Sesión Cubana was self-produced by Zucchero and longtime collaborator Grammy-winner Don Was (Bob Dylan, Bonnie Raitt, The Rolling Stones). With his deep-rooted appreciation for all musical genres, Zucchero successfully married the rhythms of Cuban and American music including salsa, soul, blues and rock to create a thrilling cornucopia of sound. "I wanted to celebrate a feast of music," he noted after recording La Sesión Cubana.
The album includes six classic hits from his repertoire including "Baila", "Un kilo", "Così celeste", "Cuba libre", "Indaco dagli occhi del cielo" and "L'urlo". Seven brand new tracks are showcased including the never before published "Love is All Around" of which Zucchero stated; "The result is this kaleidoscope of thoughts that becomes a slogan for the future: love is all around us". The achingly passionate "Sabor a Ti", also never before published, is performed in both Italian and Spanish. His interpretations of "Never is a Moment", "Nena", "Pana", "Ave Maria no Morro" and the raucous "Guantamanera" round out this eclectic mix.
As a singer-songwriter, guitarist and keyboardist, Zucchero has collaborated with the royalty of international rock, blues, R&B, jazz and classical music – from Bono, Sting, Iggy Pop and Eric Clapton to Miles Davis, John Lee Hooker and Solomon Burke to Luciano Pavarotti and Andrea Bocelli. The 57-year-old has also won two World Music Awards, six IFPI Europe Platinum Awards and was nominated for a Grammy in 2007. Sting was quoted as saying; "Every country produces one singer in each generation who represents that country, the way Bruce Springsteen represents America or Bono does Ireland. Zucchero is the Italian voice for everyone in the world". His longstanding collaborator Bono described him by saying; "My friend Zucchero has had Italy singing and dancing for years. . . His boyish smile makes him the most charming man in Italy, that smile that just runs all over his face. But the voice is the sound of aged oak, like an old, oak-aged whisky".
With La Sesión Cubana, the rest of the world will finally take notice of what Italy has known all along…. Zucchero has always been a star.
For more information please go to:
Press Contacts:
Jodie Thomas: 646-266-1410/ ThomasJodieNYC@gmail.com
Olga Makrias: Decca Label Group- 212-333-1485/ Olga.Makrias@umusic.com