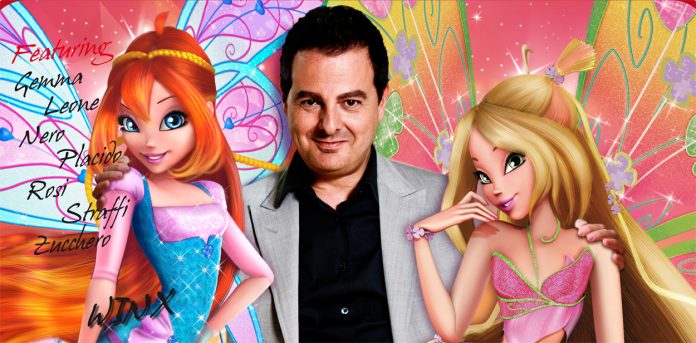 Italy's Big-Budget 'Gladiators 3D' to Premiere at L.A.-Italia Fest
8:15 AM PST 2/15/2013 by Eric J. Lyman
The film's creator, Iginio Straffi, will receive a special award at the eight-year-old event.
ROME – Gladiators of Rome 3D, the big-budget animated adventure story from Iginio Straffi, will have its U.S. premiere Sunday on the opening night of the Los Angeles-Italia Film, Fashion and Art Fest, while Straffi himself will be honored with the festival's new Italia Excellence Award.
Straffi is the founder of Rainbow, the successful Italian animation house located in the Italian region of The Marches, far from the traditional Italian cinema and television power centers in Rome and Milan. Rainbow's flagship franchise Winx Club — highly successful in Europe but showing in the U.S. only since last year — will also screen at the Los Angeles-Italia Fest, on Wednesday.
Straffi told The Hollywood Reporter he was eager for Gladiators of Rome to screen in the U.S. market, in order to show the quality of animated features coming out of Italy.
PHOTOS: THR's Oscar Nominees Night
"Top quality animation is not the exclusive property of Pixar and Dreamworks and Fox," said Straffi, who will be in the U.S. in connection with the festival for a week. "We think we have a top-quality product here, and we're pleased it's making its way to the important U.S. market."
Pascal Vicedomini, the eight-year-old festival's founder, called Straffi "a visionary" and said he is "a perfect example of how contemporary Italian artists combine creativity with entrepreneurial skill."
Gladiators of Rome, whose $45 million price tag makes it one of the most expensive Italian films ever made, opened in its home market last October, where it has been a box-office success. It has screened in about half a dozen other territories since then.
Sunday's premiere at the festival will be in Italian with English-language subtitles. The official Paramount launch for the film will likely come in April or May, with the film dubbed into English.
The Winx Club franchise is much more established, premiering nearly a decade ago and having already made a splash in around 35 countries. After many delays it launched in the U.S. in 2012.
In addition to being on hand for the two screenings and taking home the Italia Excellence Award from the festival, Straffi said he would meet with various studio officials to explore possible future co-production opportunities.
In addition to honoring Straffi, the festival previously announced it would pay homage to iconic actor Al Pacino with the first Jack Valenti-L.A.-Italia Legend Award for "outstanding Italian-Americans who made major contributions to the global motion picture industry." The award, named for the longtime Motion Picture Association of America president, will be presented by Valenti's son, actor John Valenti.
The L.A.-Italia Fest runs Feb. 17-23 at Los Angeles' Chinese Theatre.
http://www.hollywoodreporter.com/news/gladiators-3d-premiere-at-la-421850