LEGENDARY PRODUCER, COUNTESS MARINA CICOGNA HONORED BY L.A. ITALIA AND THE REPUBLIC OF ITALY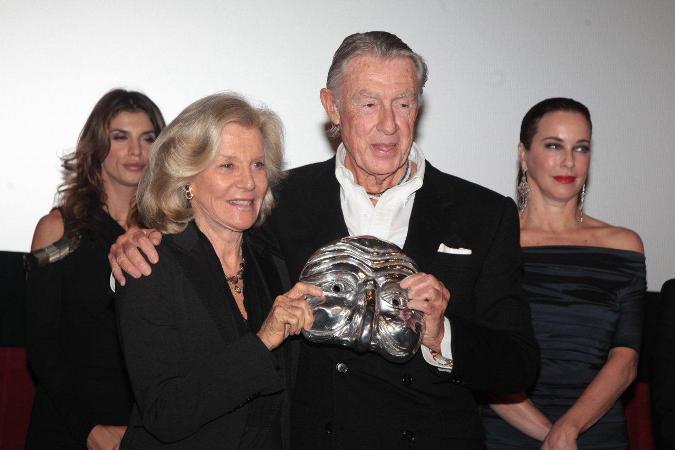 LOS ANGELES, February 27, 2012 – To celebrate the ending of the seventh annual "Los Angeles Italia – Film, Fashion and Art Fest." the Italian Consulate in Los Angeles held a luncheon February 25th in honor of the Italian filmmakers here for the Academy Awards. Hosted by Italian Consul General Giuseppe Perrone and John Brooks, luncheon guests toasted producer Marina Cicogna; Enrico Casarosa, nominated for best animated short film, "La Luna;" and the husband and wife team of Dante Ferretti and Francesca Lo Schiavo, who captured Oscars the next day for Best Achievement in Art Direction for Martin Scorcese's "Hugo."
During the course of the luncheon, the Consul General announced that Countess Cicogna has been awarded the Order of Merit of the Republic of Italy, that country's highest honor, by the President of Italy, Giorgio Napolitano. The previous day, the Festival presented a special screening of the documentary, "Marina: An Italian Legend" at the Chinese Theater in Hollywood.
Sunday's Oscar marked the third win for Ferretti and Lo Schiavo, who declared the 2012 Oscar "for Martin and for Italy." Ferretti has had ten nominations; and Lo Schiavo, eight. Also as part of the week-long festival, the couple received the L.A. Italia Excellence Award.
The festival included screenings, symposia and special tributes to legendary filmmakers Dario Argento and Sergio Corbucci. Cult filmmaker Argento is known for his horror films; Corbucci for his "spaghetti westerns."
Pascal Vicedomini produced the festival, along with board chair Pupi Avanti; honorary chair Mark Canton, producer of "300" and "Immortals;" and masters of ceremonies Gianluca Mech and Elisabetta Canalis of "Dancing with the Stars." Co-chairs included "Crash" director Bobby Moresco, "Swept Away" director Lina Wertmuller, actor Franco Nero of the films "CameloT," "Die Hard 2" and "Letters To Juliet;" Leslie and Jack Kavanaugh, Shaul Kuba and Marina Cicogna.
Among those who attended the festival were actors Joan Collins, Danny Glover of "Lethal Weapon," Beau Dunn of "Melissa & Joey," Kenny Doughty of "Titus," Caroline Carver of "The Aryan Couple," Daniela Bobadilla of "Awake," Betsy Brandt of "Breaking Bad," Joelle Carter of "Justified," Mariah Bonner of "The Social Network," Kasia Wolejnio of "The Mechanic," Connor Weil of "Lies in Plain Sight," Sofia Milos of "CSI: Miami" and Alex Meneses of "Selena;" actor/producer Jeff Garlin of "Curb Your Enthusiasm;" producers Ann Lopez and Cindy Cowan; artist, photographer and playwright Amanda Eliasch; choreographer Kenny Ortega; director John Landis; musician Peppino di Capri; fashion designer Renato Balestra; and jewelry designer Tarina Tarantino with her husband, company CEO Alfonso Campos.
Photo: Marina Cicogna with the director Joel Schumacher