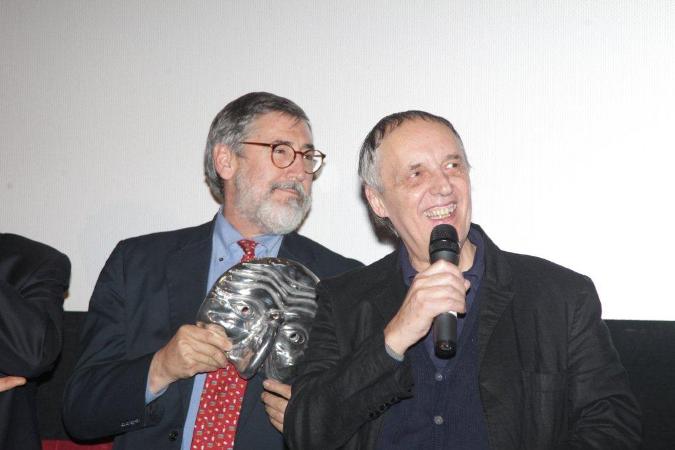 DARIO ARGENTO BIOGRAPHY
Dario Argento, the first born son of famed Italian producer Salvatore Argento and Brazilian fashion model Elda Luxardo, recalls getting his ideas for film making from his close knit family from Italian folk tales told by his parents and other family members including an aunt who told him frightening bedtime stories. Argento based most of his thriller movies on childhood trauma, yet, according to him, his childhood was a normal one. Along with tales spun by his aunt, Argento was impressed by stories from The Grimm Brothers, Hans Christian Andersen and Edgar Allan Poe. He began his career as a movie critic for the Rome daily newspaper "Paese Sera". A professional screenwriter by the age of 20, he joined Bernardo Bertolucci to write the screenplay for Sergio Leone's epic western "Once Upon A Time In The West" in 1967. Many screenplays later, Argento was signed up by Goffredo Lombardo, head of the Italian film company Titanus, and made his directing debut in 1970 with "The Bird With The Crystal Plumage". His father Salvatore was the producer on all his films up until "Deep Red" when his brother Claudio Argento took over. He has always taken a great interest in all aspects of film making to ensure that the end results of his films are as near to his original vision as possible. One of the first directors to see the possibilities of the steady cam and the 'luma' crane, he used them both to their full potential. He even helped compose the music for "Suspiria". Many of his films are considered to be 'giallo'. Giallo meaning yellow, which in turn came from the yellow covers of the penny-dreadful horror/thriller paperbacks that were sold in Italy. He has directed 15 films – 'The Bird with the Crystal Plumage', 'The Cat O Nine Tails', 'Five Days In Milan', 'Four Flies on Grey Velvet', 'Profondo Rosso', 'Suspiria', 'Inferno', 'Tenebrae', 'Phenomena', 'Opera', 'Two Evil Eyes', 'Trauma', 'The Stendhal Syndrome', 'Phantom of the Opera' and 'Non ho sonno'. Argento has also been involved in producing/writing films for others such as his protege Michele Soavi, and has worked on three series for Italian television — 'The Door of Darkness' (1972), 'Giallo' (1987) and 'Turno di note'(1988). There are also three documentaries on Argento and his films, 'Dario Argento's World of Horror', 'Dario Argento: Master of Horror (Dario Argento's World of Horror 2)' and 'The World of Dario Argento 3'. His next new movie will be "Dracula 3D". His movies may be regarded by some critics and opponents as cheap and overly violent. But second or third viewings regard him as a talented writer/director with a penchant for original ideas and creative directing.
Photo: Dario Argento with the director John Landis.