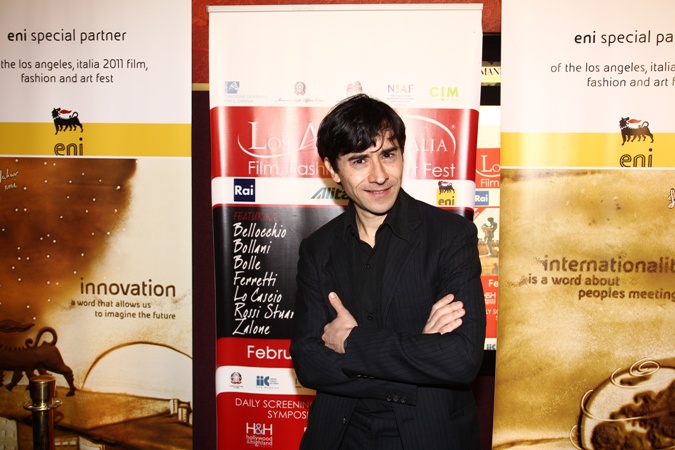 Luigi Lo Cascio was born in Palermo on October 20th. He attended the National drama School ('Accademia Nazionale d'Arte Drammatica Silvio D'Amico) where he graduated in 1992 with an essay on Hamlet directed by Orazio Costa. He was cast to play the lead in Marco Tullio Giordana-directed "I cento passi, followed by "Luce dei miei occhi" by Giuseppe Piccioni, "Il più bel giorno della mia vita" by
Cristina Comencini, "La meglio gioventù" by Marco Tullio Giordana, "Buongiorno, notte" by Marco Bellocchio, "Mio cognato" by Alessandro Piva.
SELF-PORTRAIT
We were a really happy family: five brothers and a grand mother who lived with us. At night, when we had dinner, there was a light-hearted atmosphere and all troubles seemed to be far away. I attended the Accademia d'Arte Drammatica Silvio D'amico, and as an admission piece I presented a text by Petrolini called "Roba seria" (serious stuff): a kind of collage made up of several bits of different poems taken from Dante, Foscolo, Carducci, forming a single speech giving rise to a lot of nonsense bantering the Italian acting tradition One day I received a call from my uncle, Luigi Burruano, the actor who in "I cento passi" plays the role of my father. He told me: "Join me immediately; I'm having lunch with Marco Tullio Giordana who is looking for an actor for the role of Peppino Impastato, and is having a hard time ". After the release of "I cento passi" I received several screenplays and I chose "Luce dei miei occhi" because I was attracted by the challenge of playing a role that was totally different from Peppino Impastato. In fact, my character in that film has very few lines. I had an excellent working experience on "La Meglio Gioventù" because on the set I met lots of friends and colleagues sharing the same stage work experience. I'm proud and happy that film directors have put aside their preconceptions against stage actors. When Bellocchio asked me to play one of Moro's kidnappers I tried to go back with my memory. On that day, I was on a bus back from school and I felt that something extremely serious had happened. Whatever direction my acting career will take, I'll be forever in debt with the role of Peppino Impastato. I like Bunuel, (I think the first film I have some memories about is "Il fascino discreto della borghesia")…I love Elio Petri, Hitchcock. But Orson Welles is the artist I'm most attracted to because of his complexity. I love Pirandello's theatre, Greek tragedy as well as Beckett and Brecht. I listen to melodrama, and I do prefer Verdi's work. My TV set is always on, like a window on the world: sometimes I'm in, sometimes not. The body of an actor must be used as a violin; to get that particular note is a question of technique. What I like the most about cinema is the synthesis. Valuable persons do not have to boast of their merits. I like to lead a wandering life; I like airports, hotels ad anonymous places.
I have been living in Rome for years but Sicily will be forever inside me.