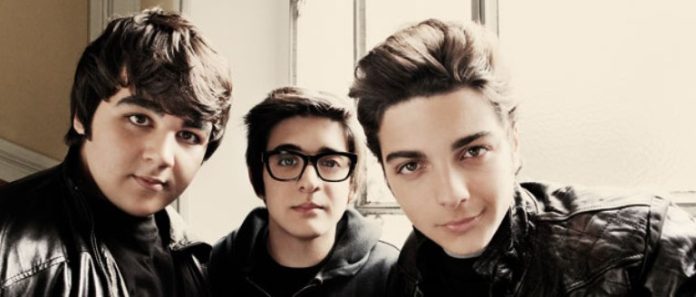 LOS ANGELES, Jan.13th 2001– The three "tenorini" Il Volo" (Gianluca Ginoble, Piero Barone, Ignazio Boschetto) strongly supported by music producers Humberto Gatica, Tony Renis, and Michele Torpedine who have been working with them for more than one year, have hogged the limelight at the traditional private parties organized in the posh Hollywood's mansions on the eve of the Grammy Awards Show.  
On Saturday night (Feb 12) the latest triumph of the three Italian artists featuring two songs, "O' sole mio" and "Un amore così grande" at the Beverly Hills sumptuous villa of Italian-American music tycoon Jimmy Iovine (hailing from yje Isle of Ischia, Italy) who has already invested a mind-blogging amount to launch the three talented Italian young artists (two from Sicily and one from Abruzzi) all over the world.
Before a stellar audience  including Schwarzenegger and Maria Shriver, Warren Beatty and Leonardo di Caprio (with Bar Rafaeli), Adrien Brody, Sacha Baron Cohen and Jaime Foxx, as well as producer Quincy Jones, and also the music stars Rihanna, P.Diddy, Black Eyed Peas, David Guetta and many other celebrities (including Paris Hilton and Italians Renzo Rosso, Melissa Satta, Gisella Marengo, and the producer of L.A. Italia Pascal Vicedomini), from the stage of a tent-like pavilion mounted in the garden, Jimmy Iovine took the mike – interrupting a wild and enthralling hip-hip performance by P.Dippy- to introduce Gianluca, Piero and Ignazio as the "three new geniuses of music who will have a staggering career and will relaunch Italian music all over the world". The declaration was accompanied by the announcement of the first Platinum Disc won by the trio with IL VOLO (for the first 50,000 CDs sold). A recognition that the three "tenorini" will be awarded in Hollywood on Thursday 24th February during the Los Angeles Italia – Film, Fashion and Art Fest Gala (opening on Sunday 20th with a tribute to late Dino De Laurentiis and the American premiere of Marco Bellocchio Sorelle Mai, with the participation of the Italian director).
The first top note of "O sole mio" fired the VIP audience who like real fans asked the three young tenors the autographs. On their way home at the end of that incredible night, the three incredulous artists declared: "Last year, at the same party we were considered as "gatecrashers"!