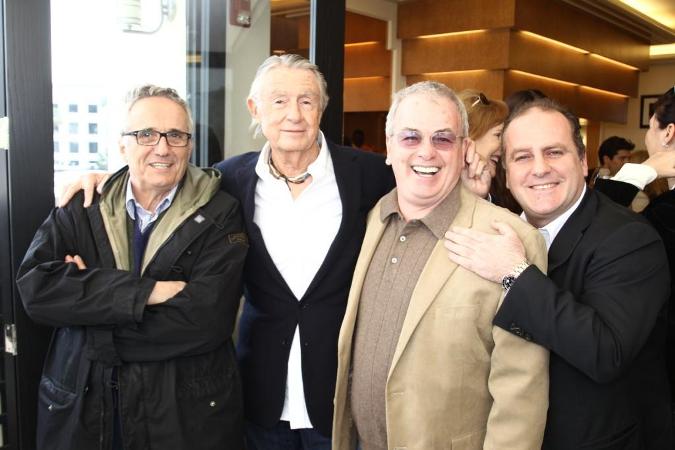 Photo: Marco Bellocchio, Joel Schumacher, Bobby Moresco and Pascal Vicedomini
Week-Long Retrospective Included American Premiere of "SORELLE MAI" on Opening Night
Director Received Lifetime Achievement Award From the Italian Institute of Culture – Los Angeles
And he has been Guest Lecture at the University of Southern California
LOS ANGELES, CA, February 27, 2011 – Noted Italian filmmaker Marco Bellocchio has been honored during the 6th edition of the Los Angeles, Italia Film, Fashion and Art Festival which tookplace on the eve of the Academy Awards (February 20th to 26th) at the Mann's Chinese 6 Theatre in the famed Hollywood & Highland complex. The Festival's opening night featured the American Premiere of his latest movie "Sorelle Mai."
 Bellocchio has been introduced to the Los Angeles audience by LA, Italia chairman, the Academy Award®-winning screenwriter Bobby Moresco (Best Original Screenplay 2004 – "Crash").
 During the week, LA, Italia has been presented a retrospective of Bellocchio's most acclaimed films ranging from "Fists in the Pocket" (1965) to the recent "Vincere," whose star, Giovanna Mezzogiorno, was recently honored by the National Society of Film Critics.
 The retrospective also included "Good Morning, Night" (2003), "The Wedding Director" (2006), and "My Mother's Smile" (2002). Bellocchio participated in a conference at the University of Southern California on Thursday, February 24th following the Festival screening of "Fists in the Pocket," and presented with a Lifetime Achievement Award from the Italian Institute of Culture – Los Angeles at noon the following day, February 25th.
 The Festival's opening day celebrated the remarkable career of legendary Italian producer Dino DeLaurentiis with a mini retrospective of several of his most memorable motion pictures, along with a screening Tonino Pinto's De Laurentiis documentary "A Neapolitan in Hollywood."
LA, Italia is produced by Pascal Vicedomini for the Capri in the World Institute in association with Cim Group, Eni, Rai TV, and Alitalia, with the sponsorship of the Ministry of Foreign Affairs, the Department of Cinema of the Ministry of Culture and the Hollywood Chamber of Commerce, and with the special participation of the NIAF – National Italian American Foundation, the Consul General of Italy, the Italian Trade Commission, the Italian Institute of Culture in L.A., Cinecittà Studios, Cinecittà-Luce and the U.S.C. – University of Southern California.
LA, Italia is a sister event of two other Italian festivals, Capri-Hollywood and Ischia Global, all of which are dedicated to establishing a creative and business bridgehead between Hollywood and Italy's film and show business communities.